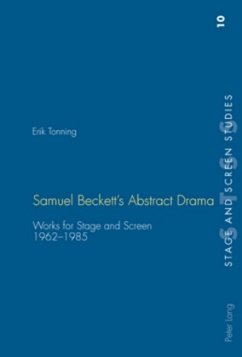 Andere Kunden interessierten sich
auch
für
Play, written 1962-63, was an aesthetic watershed inaugurating his late, 'abstract' dramatic style. This book gets close to Beckett's creative process by examining the possible influence of Arnold Schoenberg's twelve-tone music and Vassily Kandinsky's abstract painting upon this formal shift; by tracing Beckett's developing attitude to abstraction and its relation to his long-standing preoccupation with the 'breakdown' of the subject-object relation and the ultimate failure of all expression; and by following his formal choices through manuscript drafts. The author goes on to analyse Beckett's attempt to adapt his new methods to the media of film and television, and to demonstrate how Beckett's late works for stage and screen develop alongside one another right up to his 1985 adaptation of the play What Where for television. Throughout the book, unpublished manuscript materials such as Beckett's letters, drafts, notes on philosophy, psychology and art, and his 'German diaries' augment a detailed account of the submerged sources that Beckett appropriated to the evolving needs of his abstract dramatic art.
Produktdetails
Stage and Screen Studies .10
Artikelnr. des Verlages: 11022
Seitenzahl: 291
Erscheinungstermin: 9. Oktober 2007
Englisch
Abmessung: 223mm x 149mm x 25mm
Gewicht: 420g
ISBN-13: 9783039110223
ISBN-10: 3039110225
Artikelnr.: 26670995
Contents: Beckett and abstraction: documented attitudes - Beckett's aesthetics: from Schopenhauer's irrational Will to the inexpressible 'incoherent continuum' - Weakness, failure, distress and the original sin of having been born - Formal disintegration in The Unnamable and the pre-Play drama - Abstract form in Play: foregrounding the inhuman system - Beckett's analogy with Schoenberg and Kandinsky - The search for form: drafts of Play and Come and Go - Instructive failures at abstraction in Film and Eh Joe - Not I, That Time and Footfalls: staging insubstantial states of self - Beckett's reshaping of Expressionist images - Depth psychology as structural template - Presenting ghostly images: Ghost Trio and ...but the clouds... - Vermeer as formal model - Beethoven, Yeats and Romantic 'Sehnsucht' - Ritualised desire and the unattainable Lady - Leibnizian monadology as formal model in A Piece of Monologue, Ohio Impromptu, Rockaby, Quad (I & II), Nacht und Träume and What Where - 'Like something out of Beckett': staging the creative self as monad.
«The strength of 'Samuel Beckett's Abstract Drama' is in its nuanced refusal to read Beckett's plays in exclusively formal terms (...). Its careful close analyses of the often oxymoronic cadences of individual plays are also consistently strong (...). There are suggestive engagements with Beckett's reading and note-taking and an astute use of manuscripts to illuminate readings of the plays, particularly a Jungian reading of 'Footfalls', and the complex textual genesis of 'Play'.» (Sinéad Mooney, The Review of English Studies)
«While Erik Tonning's immediate focus is abstraction in the later drama for stage and screen, he recognizes Samuel Beckett's sustained allegiance to the particulars of art and thought in the earlier writings; the outcome is the best study yet of the paradox of continuity whereby Beckett's emphatic 'rupture of the lines of communication' came to determine the shape of his aesthetic and artistic trajectory.» (Professor Chris Ackerley, University of Otago)
«This is a serious scholarly study, which breaks new ground in situating Beckett's work in relation to visual, and specifically German and abstract, art. It also proposes an original philosophical interpretation of the later works.» (Christopher Butler, Professor of English Language and Literature, University of Oxford)