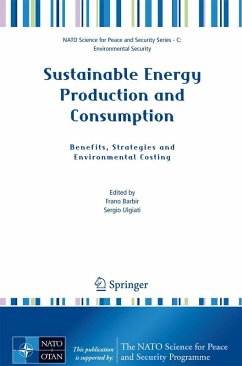 Andere Kunden interessierten sich
auch
für
---
Energy and environmental security are major problems facing our global economy. Fossil fuels, particularly crude oil, are confined to a few regions of the world and the continuity of supply is governed by dynamic political, economic and ecological factors. These factors conspire to force volatile, often high fuel prices while, at the same time, environmental policy is - manding a reduction in greenhouse gases and toxic emissions. Yet incr- sed growth and demand for welfare by developed and developing countries are placing higher pressure on energy resources. In particular, a large fraction of "new consumers" in developing countries already reached a purchasing power high enough as to be able to access to commodity and energy markets worldwide, thus boosting energy consumption and competition for all kinds of resources. Such a trend, although in principle may represent a progress towards diffuse welfare and wealth as well as much needed equity, is at present contributing to a rush for the appropriation of available resources which are directly and indirectly linked to energy and may contribute to planetary instability if it is not adequately understood and managed. A coherent energy strategy is required, addressing both energy supply and demand, security of access, development problems, equity, market dy- mics, by also taking into account the whole energy lifecycle including fuel production, transmission and distribution, energy conversion, and the impact on energy equipment manufacturers and the end-users of energy systems.
Produktdetails
NATO Science for Peace and Security Series C: Environmental Security
Verlag: Springer Netherlands
Artikelnr. des Verlages: 12257072
Erscheinungstermin: 3. Juni 2008
Englisch
Abmessung: 235mm x 155mm x 20mm
Gewicht: 544g
ISBN-13: 9781402084935
ISBN-10: 1402084935
Artikelnr.: 23604841
Preface. Energy And Economic Growth; R. Ayres.-
Win-Win Strategies for Tackling Oil and Natural Gas Constraints while Expanding Renewable Energy Use; M. Jefferson.-
After the Fossil Fuel Era; L. Sertorio.-
Biomass or Biomess? The promises and Limits of Bioenergy; J. Spangenberg.-
Cost and Environmental Effectiveness of Climate Change Mitigation Measures; N. Markoska et al.-
Sustainable Environmental Management in Croatia - Waste and Climate Change; D. Schneider.-
Studying the "addiction to oil" of developed societies using the Multi-Scale Integrated Analysis of Societal Metabolism (MSIASM); M. Giampietro.-
Systemic Economic Instruments for a Energy Climate and Global Security; J. Greyson.-
Sustainability and Economic Feasibility of Combinations of Renewable Energy Sources (RES) and Fossil Fuels for Production of Heat and Electricity; K. Popovski and S. Popovska Vasilevska.-
Third Party Financing New Financial Tools for Energy Efficiency - An International Perspective; C. Ferrari.-
Vital Problems of Human Development, Indicators and Eco-Centric Solutions; A. Gorobets Lifestyles, Energy, and Sustainability: the Exploration of Constraints; I. Matutinovié.-
Approaches to Sustainable Energy Consumption Patterns; D. Krajnc et al.-
Energy, Environment and Security in Eastern Europe; Oleg Udovyk.-
Capacity Building for Sustainable Energy Access in the Sahel/Sahara Region -
Wind Energy as Catalyst for Regional Development; K. Benhamou.-
Bio-diesel and Hydrogen in Croatia - Challenge and Necessity; A. Krstulovié and F. Barbir.-
Hydrogen and Fuel Cell Research for Future Markets; H.-J. Neef.-
Hydrogen Production from Biomass; M. Al-Alawi.-
PV Large Scale Rural Electrification Programs and the Development of Desert Regions; S. Labed.-
Life Cycle Impacts and Total Costs of Present and Future Photovoltaic Systems: State-of-the Art and Future Outlook of a Strategic Technology Option for a Sustainable EnergySystem; M. Raugei and P. Frankl.-
Integrated Systems and Zero Emission Production Patterns in Agriculture, Industry and the Energy Sector - Why Green Is Not Enough; S. Ulgiati et al.-
Biorefinery: Biomaterials and Bioenergy from Photosynthesis - I within Zero Emission Framework; J. Gravitis.-
GIS (Geographical Information Systems), Energy and Emergy Analyses for Proper Use of Local Energy Resources; P.P. Franzese et al.-
Energy Use and CO2 Emissions From Fuel Combustion in the OECD and Non-OECD Countries: Trends Based on Decomposition Analysis; M. Pihlajamaki et al.-
Carbon Management for Secure Communities; N. Mortimer.
Author Index. Subject Index.