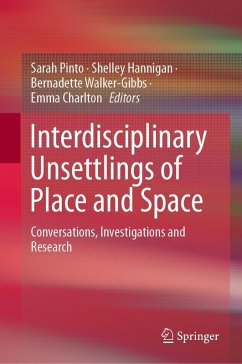 Andere Kunden interessierten sich
auch
für

This collection highlights the idea of the unsettled in the scholarly investigation of place and space. The respective chapters offer a dialogue between a diverse and eclectic group of researchers, crossing significant disciplinary and interdisciplinary boundaries in the process. The purpose of the collection is to juxtapose a range of different approaches to, and perspectives on, the unsettling of place and space. In doing so, Interdisciplinary Unsettlings of Place and Space makes an important contribution and offers new insights into how scholarship and research into different fields and practices may help us re-envision place and space.
Produktdetails
Verlag: Springer / Springer, Berlin
Artikelnr. des Verlages: 978-981-13-6728-1
1st ed. 2019
Erscheinungstermin: 21. Mai 2019
Englisch
Abmessung: 241mm x 160mm x 23mm
Gewicht: 647g
ISBN-13: 9789811367281
ISBN-10: 9811367280
Artikelnr.: 55005555
Interdisciplinary Unsettlings of Place and Space: An Introduction to the Conversation.- Part 1: Unsettled Selves.- The Unsettled Self: Creative Practice and the Nomadic Poetics of a Contemporary Flâneur.- The Place of Social Space: Classed Identities in a Regional Sporting Club.- From the Parlour to the Forum: How Dress-Art Unsettles Place and Space.- Part 2: Unsettling the Rural.- Rural 'Tourist' - Rural 'Resident' - Betwixt and Between Places and Spaces.- Disrupting Rural Futures and Teachers' Work: Problematising Aspirations and Belonging in Young People's Lives.- Ourselves, Our Rivals: Unsettling Communities During Rural School Consolidation.- Counter Hegemonic Food Discourses and Geographies of Food, Are We Losing the Rural?.- Kheti and Khadar: Land and Rights on an Agrarian Floodplain.- Part 3: The Unsettled City.- Unsettling Streetscapes: Everyday Occupations of Public Spaces in Karachi.- Citizens, Spatial Practices and Resurrection of the Idea of Place in Contemporary Lucknow.- At Home in the City: Educated Women, Housing and Belonging in Port Moresby.- Unsettling the Settler City: Indigenous Commemoration in Central Melbourne.- Part 4: Space, Place, Absence.- Unsettling Post-War Settlement: Remembering Unassimilable Families in the Space of the Migrant Camp.- "From Riverbank Humpy to White House": Spatial Assimilation at Rumbalara in 1950s Victoria.- The Unsettled Places of Rewilding.- Haunting Absence: Treblinka and Birkenau.- "Those Asian Kids": Race/Ethnicity, Invisibility and Absence in an Australian Classroom.