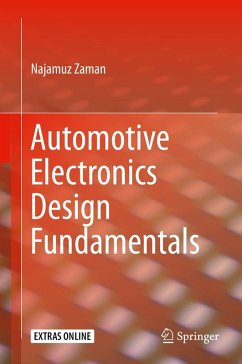 Andere Kunden interessierten sich
auch
für
Produktdetails
Artikelnr. des Verlages: 978-3-319-17583-6
1st ed. 2015
Erscheinungstermin: 1. September 2015
Englisch
Abmessung: 244mm x 161mm x 20mm
Gewicht: 652g
ISBN-13: 9783319175836
ISBN-10: 3319175831
Artikelnr.: 42420401
Introduction.- Module Architecture.- Autonics.- CAN Communication.- Distributed Computing & Systems Architecture.
It is the opinion of this reviewer that the book, as the title suggests, is a book on vehicular electronics design fundamentals, and is an excellent book from that perspective. The book seems more valuable for a somewhat advanced level vehicular electronics class (undergraduate or graduate) rather than for a basic course on the subject involving fundamental principles and theory, which is understandable. The book encompasses the automotive electronics modular electronics partitioning. The first chapter introduces the electronics architecture with interesting contents. The reader may find the material somewhat intriguing and hopefully will keep on reading as interest grows with each step at every sentence, paragraph or page. Chapter One finishes with a real world survey of a Nissan Quest minivan modular architecture. Chapter Two delves into a typical electronics module, and is an excellent example of good engineering understanding of each essential block. Chapter three !
goes further deep down for each essential block, so that the reader can grasp the basic design criterion. Chapter Four introduces a very basic understanding of software modes that are essential for the vehicle battery conservation. Chapter Five goes into the real life design of the fundamental block by utilizing OrCAD/PSpice, and TINA simulation software, which is very helpful for academia and industry to understand how the tools are used to crank out the correct design right before it gets incorrect. Chapter Six deals with a glowing example of Lincoln MKC vehicle electronics module overview, CAN bus architecture - really a good introduction of bells & whistles of a modern car. Last chapter introduces the basics of an electromagnetic compliance of a module, and vehicle, and shows how different types of testing are conducted to comply to EMC issues in a radio energy universe. This reviewer believes that it would have been nice if the author included a chapter or two pertai!
ning to electric and hybrid vehicles and also power electronics, since those are now getting more popular nowadays. But given the relatively small size of this book, it is the belief of this reviewer that the author has done an excellent job which also provides the real life experience of the author himself who is from the industry. This reviewer, who also has worked in the industry for many years, can fully relate to this.