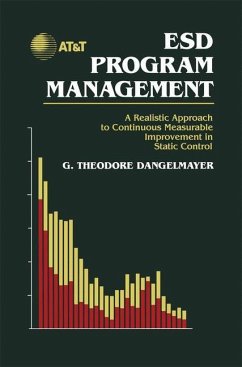 Andere Kunden interessierten sich
auch
für
Produktdetails
Verlag: Springer, Berlin
1990
Seitenzahl: 356
Erscheinungstermin: 30. November 1990
Englisch
Abmessung: 241mm x 160mm x 24mm
Gewicht: 695g
ISBN-13: 9780412097812
ISBN-10: 0412097818
Artikelnr.: 22251180
1 Twelve Critical Factors in ESD Program Management.- The Twelve Critical Factors.- Factor One An Effective Implementation Plan.- Factor Two Management Commitment.- Factor Three A Full-Time Coordinator.- Factor Four An Active Committee.- Factor Five Realistic Requirements.- Factor Six Training for Measurable Goals.- Factor Seven Auditing Using Scientific Measures.- Factor Eight ESD Test Facilities.- Factor Nine A Communication Program.- Factor Ten Systemic Planning.- Factor Eleven Human Factors Engineering.- Factor Twelve Continuous Improvement.- Points To Remember.- 2 Implementing an ESD Control Program: The Basic Steps.- The Basic Steps.- Step 1: Study and Understand the Technology of ESD Control.- Step 2: Gather Scientific Evidence of the Economic Value of ESD Control.- Step 3: Establish an Active ESD Committee.- Step 4: Develop a General Implementation Plan.- Step 5: Write or Adopt a Set of Realistic Handling Requirements.- Step 6: Prepare a Detailed Statement of Policy Including Individual Responsibilities.- Step 7: Prepare a Presentation for Management.- Step 8: Establish a Top Management Commitment.- Step 9: Develop the Details of ESD Program Management.- Step 10: Present the Program to Middle and Lower Management.- Step 11: Begin Implementation of the Control Facilities.- Step 12: Begin Training of the Entire Work Force, Including Management.- Step 13: Begin Using Facilities Immediately After Training.- Step 14: Begin Formal Auditing of All Manufacturing Departments.- Step 15: Report Auditing Results, Graphically and With Regularity, to All Levels of Management.- Step 16: Continuously Improve the Process.- Points To Remember.- 3 Fundamentals of Electrostatics.- Basic Elements.- Electric Charges.- Electric Field.- Electrostatic Potential.- Capacitance.- Charge Generation.- ESD Failure Models.- Charge Removal.- Charge Dissipation and Protective Materials.- Points To Remember.- 4 An Economic Analysis.- Case Study 1: Resistor Failure Due to Automation
---
1 Twelve Critical Factors in ESD Program Management.
The Twelve Critical Factors.
Factor One
An Effective Implementation Plan.
Factor Two
Management Commitment.
Factor Three
A Full
Time Coordinator.
Factor Four
An Active Committee.
Factor Five
Realistic Requirements.
Factor Six
Training for Measurable Goals.
Factor Seven
Auditing Using Scientific Measures.
Factor Eight
ESD Test Facilities.
Factor Nine
A Communication Program.
Factor Ten
Systemic Planning.
Factor Eleven
Human Factors Engineering.
Factor Twelve
Continuous Improvement.
Points To Remember.
2 Implementing an ESD Control Program: The Basic Steps.
The Basic Steps.
Step 1: Study and Understand the Technology of ESD Control.
Step 2: Gather Scientific Evidence of the Economic Value of ESD Control.
Step 3: Establish an Active ESD Committee.
Step 4: Develop a General Implementation Plan.
Step 5: Write or Adopt a Set of Realistic Handling Requirements.
Step 6: Prepare a Detailed Statement of Policy Including Individual Responsibilities.
Step 7: Prepare a Presentation for Management.
Step 8: Establish a Top Management Commitment.
Step 9: Develop the Details of ESD Program Management.
Step 10: Present the Program to Middle and Lower Management.
Step 11: Begin Implementation of the Control Facilities.
Step 12: Begin Training of the Entire Work Force, Including Management.
Step 13: Begin Using Facilities Immediately After Training.
Step 14: Begin Formal Auditing of All Manufacturing Departments.
Step 15: Report Auditing Results, Graphically and With Regularity, to All Levels of Management.
Step 16: Continuously Improve the Process.
Points To Remember.
3 Fundamentals of Electrostatics.
Basic Elements.
Electric Charges.
Electric Field.
Electrostatic Potential.
Capacitance.
Charge Generation.
ESD Failure Models.
Charge Removal.
Charge Dissipation and Protective Materials.
Points To Remember.
4 An Economic Analysis.
Case Study 1: Resistor Failure Due to Automation in Production.
Experiment 1.
Experiment 2.
Case Study 2: Bipolar Discrete Device Failure.
Experimental Evidence.
Case Study 3: Device and PWB Assembly Failures.
Experiment 1.
Experiment 2.
PWB Assembly Shop
Failure Analysis.
Manufacturing Evidence.
HIC Shop Manufacturing Data.
PWB Assembly Shop Manufacturing Data.
Case Study 4: Latent Failure Due to Prior ESD Damage.
Experimental Evidence.
Case Study 5: Ultrasensitive Devices.
Device Testing.
PWB Assembly.
Conclusion.
Points To Remember.
5 Designed
In Protection and Product Testing.
Device Protection.
Protection at the PWB Assembly Level.
System Level Protection.
Device Testing.
PWB Assembly Testing.
System Level Testing.
ESD Design
Dealing with the Trends.
Points To Remember.
6 ESD Test Facilities.
Field Audit Kit.
General Laboratory.
Analytical/FMA Laboratory.
Instrument Descriptions.
Instrument #1: Charge Plate Monitor (CPM).
Instrument #2: Electrostatic Field Meter.
Instrument #3: Residual Voltmeter (RVM).
Instrument #4: Surface Resistivity Meter (SRM).
Instrument #5: Resistance to Ground (RTG) Meter.
Instrument #6: Combination SRM/RTG Meter.
Instrument #7: Static Decay Time Tester With a Controlled Humidity Chamber.
Instrument #8: Megger Meter (High Resistance Ohmmeter) with NFPA Probes.
Instrument #9: Charge Analyzer (Faraday Cup).
Instrument #10: Personnel Voltage Tester (PVT).
Instrument #11: Air Ionizers.
Instrument #12: ESD Simulators.
Points To Remember.
7 Realistic Requirements.
Sensitivity Classification.
Control Techniques.
Three Basic Rules for ESD Control.
Definitions.
Static
Safe.
Static Conductors and Nonconductors.
Surface Resistivity.
Conductive Materials.
Antistatic Property.
Static
Dissipative Materials.
Static
Generating Materials.
ESD
Insensitive Devices.
Minimum Requirements.
ESD Awareness Training.
ESD Training Program.
Auditing Compliance to ESD Procedures.
Checks and Maintenance.
Personnel Certification.
Facility Certification.
ESD Acceptance Criteria for Equipment Associated with Manufacturing, Handling, and Testing.
Personnel Grounding.
Wrist Straps.
Footwear.
Heelstraps/Toestraps.
Bootstraps.
Conductive Boots.
Conductive Shoes.
Conductive and Dissipative Floor Mats.
Stationary Work Positions (Benches, Test Sets, Etc.).
Mobile Work Positions (Packing, Mass Soldering, Etc.).
Transporting Products.
Carts.
Static
Safe Packaging.
Static
Safe Bags, Shipping Tubes, and Tote Boxes.
Dissipative Table Mats.
Dissipative Tabletops.
Dissipative Floors/Floor Finishes.
Conductive Edge Connector Shunts.
Extraordinary Measures.
Other Controls.
Factory Standards.
Points To Remember.
8 Implementing an Auditing Program.
Why Auditing Puts the Coordinator in Charge.
What Must Be Audited.
Process Checkers.
How to Obtain Meaningful Data.
A Full
Time Inspector.
Auditing Reports Supersede Yield and FMA Data.
The Auditing Inspector: Qualifications and Duties.
Qualifications.
Duties.
The Inspector's Guide and Checklist.
ESD Data Base Management Software.
Summary.
Points To Remember.
9 Using Auditing Results To Manage The ESD Program.
Trend and Pareto Analysis Charts.
When and How to Report the Results.
Preliminary Auditing Reports.
Final Auditing Reports.
Staff Summary Reports.
View
Graph Presentations.
Engineering Analysis.
Case Study 1: Four Years Of Continual Improvement.
Case Study 2: Solving a Wrist Strap Problem.
Case Study 3: Solving a Bench Top Problem.
Illustrations on the Use of Graphics.
Illustration 1: Departmental Comparisons.
Illustration 2: A One
Page Summary of Two Years Results.
Illustration 3: Rewarding Success With a Zero Deviations Award.
Illustration 4: Auditing Subcontractors or Suppliers.
Summary.
Points To Remember.
10 Purchasing Guidelines: Finding the Hidden Costs and Problems.
Purchasing Principles.
Vendor Partnership Agreements.
Quality Oriented.
Credible.
Dependable.
Responsive to Your Needs/Receptive to Change.
Cost Competitive.
Equipment Selection Guidelines.
Standards.
Quality, Reliability, and Cost.
Testing Compatibility.
Suitability for Intended Application.
Human Compatibility and Training Implications.
Wrist Straps.
Heelstraps.
Shoes.
Floor Mats.
Workbenches.
Work Surface Mats.
Conductive Floor Finishes.
Bench and Room Ionizers.
Packaging and Handling Materials.
Points To Remember.
11 Training for Measurable Goals.
One: Setting Measurable Goals.
Study The Three Principles of The Psychology of Training and Learning.
Derive Measurable Goals Based on the ESD Handbook.
Use Auditing Reports and Personal Observations to Uncover Training Problems.
Use Engineering Solutions to Provide Permanent Solutions to Training Problems.
Two: Planning Classes and Recommended Courses.
Find Resources to Train Everybody.
Determine Class Size
Mass Training Versus Small Group Training.
Ask Questions and Move About.
Demonstrate the Nature of Electrostatics and the Effect of ESD on Devices.
Basic Equipment.
Basic Demonstrations.
Videos.
Recommended Courses.
Conclusion.
Points To Remember.
12 Packaging Considerations.
Antistatic Materials.
Material Characterization.
Static Dissipative Materials.
Material Characterization.
Conductive Materials.
Material Characterization.
Capacitive Coupling and Air Gaps.
Integrated Circuit Shipping Tubes.
Tote Boxes.
Bubble Packs Versus Bags.
Fighting ESD Failure Scenarios.
Points To Remember.
13 Automation.
The Nature Of Automation
Caused ESD Damage: Different, Serious, and Difficult.
One: Prevention Considerations and Techniques.
Qualification Criteria and Test Equipment.
Qualification Procedures.
Two: Automation Case Studies.
Conclusion.
Points To Remember.
14 Payback and Benefits.
Implementation Cost Control.
Quality Improvements.
Reliability Improvements.
Intangible Benefits.
Points To Remember.
Appendix 1 AT&T ESD Policy.
Appendix 2 Industry, Military, and AT&T Standards Used to Evaluate ESD Control Materials, Equipment, and Devices.
Appendix 3 How to Test the Integrity of the Ground Connection on a Work Surface.
References.