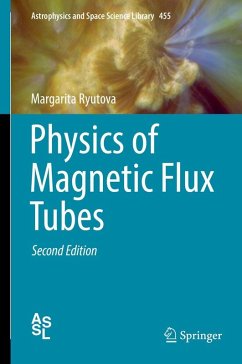 Andere Kunden interessierten sich
auch
für
The book covers both theory and observations. Theoretical models presented in analytical and phenomenological forms that are tailored to practical applications. These are welded together with empirical data extending from the early pioneering observations to the most recent state-of-the-art data.
This new edition of the book is updated and contains a significant amount of new material throughout as well as four new chapters and 48 problems with solutions. Most problems make use of original papers containing fundamental results. This way, the original paper, often based on complex theory, turns into a convenient tool for practical use and quantitative analysis.
---
Dieser Download kann aus rechtlichen Gründen nur mit Rechnungsadresse in A, B, BG, CY, CZ, D, DK, EW, E, FIN, F, GB, GR, HR, H, IRL, I, LT, L, LR, M, NL, PL, P, R, S, SLO, SK ausgeliefert werden.
Produktdetails
Verlag: Springer-Verlag GmbH
Erscheinungstermin: 03.11.2018
Englisch
ISBN-13: 9783319963617
Artikelnr.: 54525678
Preface Contents Chapter 1. The Sun's Magnetic fields 1.1 The Sun as a Star 1.1.2 Legacy of ancients 1.1.2 Hidden interior 1.1.3 Magnetic dipole 1.2 Magnetic Surface 1.2.1 Quiet sun 1.2.2 Sunspots and active regions 1.2.3 Plages 1.2.4 High latitudes and polar regions 1.3 Mass Flows 1.4 Magnetic Skeleton References Chapter 2. A Quick Look on Small Scale Flux Tubes 2.1 Early Years 2.1.1 First observational signs of magnetic flux tubes 2.1.2 The Sunspot dilemma 2.2 Elements of Theory for de facto Flux Tubes 2.3 Numerical visualization and Observations 2.4 Filamentary Structures in Laboratory and Universe 2.5 Problems References Chapter 3. Intrinsic Properties of Flux Tubes - Wave Phenomena 3.1 Equations of Motion or How are Tube Waves Excited 3.1.1 Equation of Motion for a Single flux tube 3.1.2 Macroscopic Motions of an Ensemble of flux tubes 3.2 Absorption of Acoustic Waves - Landau Resonance 3.3 Effects of Non-collinearity of Flux Tubes 3.4 Exact Theory of Linear Oscillations of Magnetic Flux Tube 3.5 Radiation of Secondary Waves by Oscillationg Flux Tubes 3.6 Scattering of Acoustic Waves and Maximum Energy input 3.7 Axisymmetric Oscillations of Flux Tube 3.7.1 Types of m = 0 mode 3.7.2 Equation of Motion for Sausage Oscillations 3.7.3 Dispersion Relation 3.7.4 Sausage and and Fast Oscillations in homogeneous flux tube 3.7.5 Effects of Radial Inhomogeneities on Sausage oscillations 3.8 Problems Appendix A. Analogy with Landau Damping Appendix B. Derivation of Equation for Kink Oscillations from MHD References Chapter 4. Effects of Flux Tube Inhomogeneities and Weak Nonlinearity 4.1 Radially Inhomogeneous Flux Tube - Internal Resonances 4.1.1 Anomalous resonance in kink oscillations 4.1.2 Alfv en resonance 4.2 Boundary Value Problem 4.2.1 Phase-mixing in flux tubes 4.2.3 Phase-mixed torsional waves 4.2.3 Phase-mixed kink oscillations 4.3 Longitudinal resonances 4.3.1 Loss of radial equilibrium 4.3.2 Bullwhip effect 4.4 Standing resonances and the temperature jump 4.4.1 Growth of the oscillation amplitude - first resonance 4.4.2 Spectral density and strong enhancement of the oscillation amplitude 4.5 Weakly Nonlinear Waves in Flux Tubes 4.5.1 Nonlinear kink oscillations - KdV-B urgers equation 4.5.2 Possibility of solitary sausage wave 4.6 Problems References 5.1 Kelvin-Helmholtz Instability and Negative Energy Waves 5.2 Shear Flow Instabilities in Magnetic Flux Tubes 5.2.1 Specifics of Kelvin-Helmholtz instability along flux tubes 5.2.2 Flux tubes and Negative Energy Waves (NEWs) 5.3 Basic Equations of Flux tube Oscillations with Shear Flows 5.4 Dissipative Instabilities of Negative-energy Kink Oscillations 5.5 Radiative Instability of Flux Tube Oscillations in Presence of Flows 5.5.1 Sausage oscillations 5.5.2 Kink oscillations 5.6 Parity of Negative and Positive Energy Waves 5.7 Explosive Instability of Negative-energy Waves 5.8 Sub-critical Mass Flows - Absence of Instabilities 5.8.1 Can the Alfv en waves heat the corona? 5.8.2 Effect of mass flows on the efficiency of heating by Alfv en waves 5.9 Phase-Mixed Alfv en Waves at Sub-alfv enic Mass Flows 5.9.1 Damping rate and height of energy release 5.9.2 Observable morphological effects 5.10 The Asymptotic Behavior of the Total Energy Flux 5.11 The Wave Extinction in the Presence of Downflows 5.12 Problems Appendix A. Equation for Alfv en Waves in the Presence of Parallel Mass Flows References Chapter 6. Collective Phenomena in Rarefied Ensembles of Flux Tubes 6.1 Response of Flux Tubes to Propagation of Sound Waves 6.1.1 Energy exchange between the waves and ensembles of flux tubes 6.1.2 Near-resonance condition 6.2 Nonlinear Estimates of the Maximum Energy Input 6.3 Axisymmetric Oscilation in Flux Tube Ensembles 6.
---
Preface.- The Sun's Magnetic elds.- A Closer Look - Small Scale Structures.- Properties of An Isolated Flux Tube - Theory and Modeling- Waves and Oscillations in a Flux Tube- Magnetosonic Streaming- Wave Phenomena in Rare ed Ensembles of Flux Tubes- Wave Phenomena in Dense Conglomerate of Flux Tubes- Flux Tube Dynamics in the Presence of Mass Flows- Moving Magnetic Features (MMFs)- Reconnection of Flux Tubes - Post-reconnection Processes I - Theory and Observations - Post-reconnection Processes II - Theory and Observations - Electro-magnetic Coupling Throughout the Solar Atmosphere - The Corona and Ensembles of Magnetic Flux Tubes - Quiescent Prominences - Filamentary Structures in Universe.