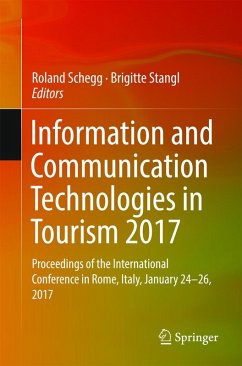 Produktdetails
Artikelnr. des Verlages: .978-3-319-51167-2, 978-3-319-51167-2
1st ed. 2017
Erscheinungstermin: 5. Januar 2017
Englisch
Abmessung: 236mm x 157mm x 48mm
Gewicht: 1217g
ISBN-13: 9783319511672
ISBN-10: 331951167X
Artikelnr.: 47011188
Part I: Recommender Systems and Semantic Web.- Part II: E-strategy and ICT for Innovation.- Part III: Smart Destinations and Big Data.- Part IV: Virtual and Augmented Reality.- Part V: Mobile Services and Wearable Technologies.- Part VI: Online Consumer Behaviour.- Part VII: Consumer Profiling.- Part VIII: eReputation Management and Online Reviews.- Part IX: Social Media.- Part X: Sharing Economy and New Business Models.