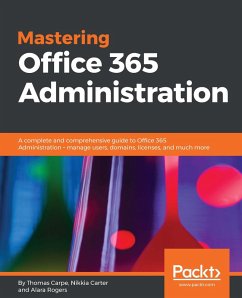 Geräte: eReader

mit Kopierschutz

Größe: 22.79MB

FamilySharing(5)
Andere Kunden interessierten sich
auch
für
Key Features
Perform common to advanced-level management and administrative tasks for your organization with Office 365
Become an Office 365 generalist who can work with the entire stack-not just specific products
An advanced-level guide that will teach you to implement enterprise-level services into your organization, no matter the size of the business
Book Description
In today's world, every organization aims to migrate to the cloud in order to become more efficient by making full use of the latest technologies. Office 365 is your one-stop solution to making your organization reliable, scalable, and fast.
This book will start with an overview of Office 365 components, and help you learn how to use the administration portal, and perform basic administration. It then goes on to cover common management tasks, such as managing users, admin roles, groups, securing Office 365, and enforcing compliance. In the next set of chapters, you will learn about topics including managing Skype for Business Online, Yammer, OneDrive for Business, and Microsoft Teams. In the final section of the book, you will learn how to carry out reporting and monitor Office 365 service health.
By the end of this book, you will be able to implement enterprise-level services with Office 365 based on your organization's needs.
What you will learn
Understand the vast Office 365 feature set
Understand how workloads and applications interact and integrate with each other
Connect PowerShell to various Office 365 services and perform tasks
Manage Skype for Business Online
Get support and monitor Office 365 service health
Manage and administer identities and groups efficiently
Who this book is for
This book targets architects, sys admins, engineers, and administrators who are working with Office 365 and are responsible for configuring, implementing, and managing Office 365 in their organization. A prior knowledge of Office 365 and Exchange servers is mandatory.
Thomas Carpe is a founder and managing principal of Liquid Mercury Solutions, a Baltimore-based Microsoft Gold partner specializing in Azure, Office 365, and SharePoint since 2009. He's been working with SharePoint since 2001, with Microsoft technology for over 20 years. He has several Microsoft certificates, including MCPD, MCSE, and MCITP. He is an acknowledged expert in SharePoint security, and he is the author of a large open source library and several software products built on SharePoint. He resides in Baltimore with his wife, children, housemates, and a menagerie of pets. Nikkia Carter, director of collaboration and training for C3 Integrated Solutions, a Microsoft Gold & Silver partner in VA, has a bachelor's in computer science, a master's in IT project management, and is a CompTIA Certified Technical Trainer. She is a solutions developer, strategist, trainer, and tech speaker. She is a member of the Microsoft Voices for Innovation taskforce and of the International Association of Microsoft Channel Partners DC board. She also leads the SharePoint User Group DC. Alara Rogers, not to be confused with Buck Rogers or Mr. Rogers, is often thought to be a brain in a tank, but this is not true; she is a space alien. Alara grew up in the land of IBM near Poughkeepsie, NY, and entered IT via database marketing and analytics. She has a bachelor's in psychobiology from the University of Pennsylvania. Nowadays, her main interests are business intelligence, process management, information architecture, and SharePoint as a platform for the rest. She writes science fiction in her spare time, and has been known to reply at length when someone is wrong on the internet.
---
Dieser Download kann aus rechtlichen Gründen nur mit Rechnungsadresse in A, B, BG, CY, CZ, D, DK, EW, E, FIN, F, GR, HR, H, IRL, I, LT, L, LR, M, NL, PL, P, R, S, SLO, SK ausgeliefert werden.