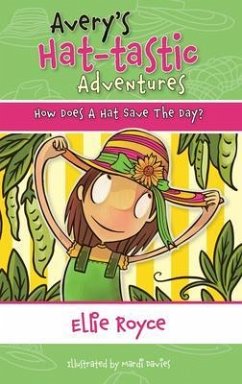 Geräte: eReader

mit Kopierschutz

Größe: 5.64MB
Andere Kunden interessierten sich
auch
für
Avery believes that every occasion needs a hat to make it perfect, and that every problem can be solved with the help of a hat. If you don't believe her, she'll tell you why! She's a little bit quirky, a little bit feisty, a little bit stubborn and a whole lot of fun. Once Avery finds the right hat, along with her best friend Olivia and Olivia's dog Gatsby, away we go on another adventure.
Avery doesn't always get it right (even though she
thinks
she does) but with friends like Olivia and Gatsby, kindness and friendship always win the day.
These positive, true to life, stand-alone stories with their themes of imagination, friendship, family and real-life challenges will have readers from ages 5-8 who love Billie B Brown, Violet Mackerel, Ginger Green and Lulu Bell welcoming Avery Mc Daniel into their world with open arms.
In Book 1 -How Does a Hat Save the Day? Sam the Scarecrow is in danger of being pulled apart and recycled, so Avery and Olivia stage a 'sit in', just like Gandhi. One of Avery's hats might just save the day. But will it be her favourite, and can she bear to part with it, even to save Sam?
---
Dieser Download kann aus rechtlichen Gründen nur mit Rechnungsadresse in A, D ausgeliefert werden.