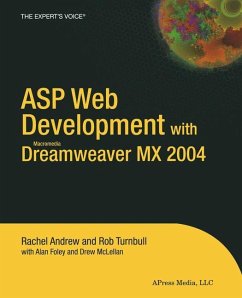 Andere Kunden interessierten sich
auch
für


Technology involved:
- Microsoft Active Server Pages version 3.0 is Microsoft's classic server-side scripting framework, still very popular amongst web developers, which is one of the 5 server models supported in Macromedia's new version of Dreamweaver, MX 2004
- Microsoft IIS and PWS are Microsoft's web servers, used to host ASP pages
- Macromedia Dreamweaver MX 2004 is Macromedia's new version of their hugely popular WSIWYG web page creation tool, with much improved features
---
* Teaches Web development using real world tutorials.

* Approach to subject is no nonsense, wastes little time on history and unnecessary information; therefore it is very concise and results driven.

* Covers vital Web development subjects such as Web standards principles and implementation.

* Several authors are members of Team Macromedia and the Web Standars project.


From the reviews:

"A concise, compact, no-nonsense book that teaches the reader how to develop accessible, standards compliant ASP-driven web sites using ASP and Macromedia Dreamweaver MX 2004 as the development tool. This book presents ASP Web development with Dreamweaver in real-world tutorials so you can expect fast results as you progress through the book." (it-expert, Issue no. 48, 2004)