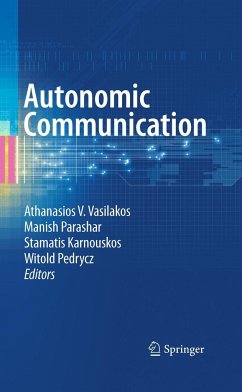 Andere Kunden interessierten sich
auch
für
Produktdetails
Lecture Notes in Biomathematics Nr.115
Verlag: Springer, Berlin
Artikelnr. des Verlages: 11962335
Erscheinungstermin: 5. Oktober 2009
Englisch
Abmessung: 243mm x 166mm x 33mm
Gewicht: 713g
ISBN-13: 9780387097527
ISBN-10: 038709752X
Artikelnr.: 23881475
Bio
inspired Autonomic Structures: a middleware for Telecommunications Ecosystems.
Social
based Autonomic Routing In Opportunistic Networks.
A Collaborative Knowledge Plane for Autonomic Networks.
A Rate Feedback Predictive Control Scheme Based on Neural Network and Control Theory for Autonomic Communication.
Hovering Information
Self Organizing Information That Finds Its Own Storage.
The CASCADAS Framework for Autonomic Communications.
Autonomic Middleware for Automotive Embedded Systems.
Social Opportunistic Computing: Design for Autonomic User
Centric Systems.
Programming and Validation Techniques for Reliable Goal
driven Autonomic Software.
Autonomic Communication in Pervasive Multimodal Multimedia Computing Systems.
Self
healing for Autonomic Pervasive Computing.
Map
based Design for Autonomic Wireless Sensor Networks.
An Efficient, Scalable and Robust P2P Overlay for Autonomic Communication.
Autonomic and Coevolutionary Sensor Networking.