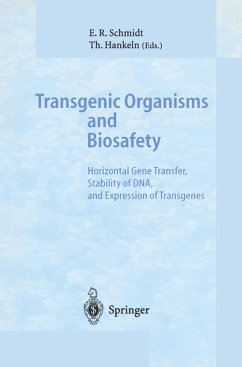 Andere Kunden interessierten sich
auch
für
---
Gene/biotechnology and the broad use of genetically modified organisms is rapidly developing into a commercial enterprise. In spite of the pace of scientific progress in this field, a partly emotional debate is still being carried on by the general public and on the part of the consumer about the potential risks linked to this new technology. Especially when genetically modified organisms (GMOs) are tested in the open field, the question of "safety" is controversially discussed among different groups in society. Environmentalists are worried about unforeseeable dangers inherent in the release of a living organism, assuming that special risks are linked to organisms which have been modified by molecular biologists using tools developed in the laboratory. Frequently quoted potential hazards are the phenomena of "gene escape" and "genetic pollution", meaning the very interesting question of natural (horizontal) gene transfer. This phenomenon of horizontal gene transfer is in fact well known to scientists studying prokaryotes. Many prokaryotes are able to exchange DNA readily between individuals of different species or are even able to take up DNA from the extracellular environment by the process of genetic transformation, which has already been known for more than 65 years. For eukaryotes, however, the evidence of natural horizontal gene transfer is very limited.
Produktdetails
Verlag: Springer, Berlin
1996.
Seitenzahl: 356
Erscheinungstermin: 27. Juni 1996
Englisch
Abmessung: 235mm x 155mm x 19mm
Gewicht: 534g
ISBN-13: 9783540610779
ISBN-10: 3540610774
Artikelnr.: 09194812
I Horizontal Gene Transfer.- 1 Gene Transfer Between Organelles and the Nucleus in Lower Eukaryotes.- 2 Horizontal Transfers and the Evolution of Transposable Elements.- 3 Transposable Elements in Baculoviruses: Their Possible Role in Horizontal Gene Transfer.- 4 From Gene Transfer to Risk Assessment: Experiences with Genetic Variability in Baculoviruses and New Approaches to Analyse the Reaction of Microbial Communities to Stress Factors.- 5 Examination of the Putative Horizontal Gene Transfer from Transgenic Plants to Agrobacteria.- 6 Can Agrobacteria Be Eliminated from Transgenic Plants?.- 7 Preliminary Findings of DNA Transfer from Transgenic Plants to a Wild-Type Strain of Aspergillus niger.- 8 Gene Dispersal from Transgenic Crops.- 9 Evaluation of Potential Gene Transfer from Transgenic Plants.- 10 Efficiency of Horizontal Transfer by Natural Genetic Transformation of Plasmids with Homology to the Pseudomonas stutzeri Chromosome and the Effect of DNA Restriction.- 11 Accidental Formation of Replication-Competent Viruses from Gene Transfer by Retroviral Vectors.- 12 Transgenic Expression of a Toxin-Coding Killer Virus of the Yeast Zygosaccharomyces bailii in Saccharomyces cerevisiae: Genetic Evidence for a Possible Function of "Cryptic" Mycoviruses in the Evolution of Their Hosts.- 13 Foreign DNA in Mammalian Cells and Organisms.- II Stability of DNA.- 14 Persistence of DNA in the Environment and Its Potential for Bacterial Genetic Transformation.- 15. Persistence of DNA in Natural Soils: Adsorption to Particulate Material Provides Protection Against Nucleolytic Degradation.- 16 Degradation of Transforming DNA in a Groundwater Aquifer Microcosm by the Extracellular Nuclease of Serratia marcescens SM6 and Application of the Nuclease in a New Conditional Suicide System for Escherichia coli.- 17 A Conditional Suicide System for Genetically Engineered Bacteria Based on the Endonuclease I Gene of Escherichia coli.- 18 Identification and Characterization of Extrachromosomal Circular DNA Released from a Genetically Modified Chromosome of Hansenula polymorpha.- 19 Instability of Tandem Repetitive DNA in "Natural" and Transgenic Organisms.- III Expression of Transgenes.- 20 Range of Expression and Transmission Instability of the Kanamycin-Resistancc Reporter Gene in Direct Gene Transfer Experiments.- 21 Variability of Organ-Specific Expression of Reporter Genes in Transgenic Plants.- 22 Heat-Induced Loss of Transgene Activity Detected and Analysed in Several Transgenic Nicotiana tabacum Lines.- 23 Quantification of Heat Treatment-Induced Transgene Silencing Using Single Cells of Nicotiana tabacum.- 24 Genetic Stability and Expression of Foreign Genes in Transgenic Lines of the Legume Vicia narbonensis.- 25 Characterization of a Plant Scaffold-Attached Region from a T-DNA Integration Site.- 26 Expression of Antibody Single-Chain Fragments with Specificities to Structural and Nonstructural Proteins of Beet Necrotic Yellow Vein Virus in Plants: An Alternative Approach To Produce Virus Resistant Plants.- 27 Gene Transfer in Aspen.- 28 Manufacture of Proteins Based on Recombinant Chinese Hamster Ovary Cells: Assessment of Genetic Issues and Assurance of Consistency and Quality.- IV Field Release of Transgenic Plants.- 29 Out in the Open: Field Trials with Genetically Modified Crop Plants in Four European Countries, Chile and the United States.- 30 How Will Transgenic Sugar Beets Behave in Natural Plant Communities?.