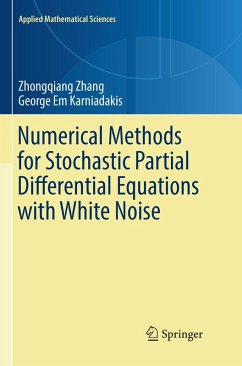 Andere Kunden interessierten sich
auch
für


This book can be considered as self-contained. Necessary background knowledge is presented in the appendices. Basic knowledge of probability theory and stochastic calculus is presented in Appendix A. In Appendix B some semi-analytical methods for SPDEs are presented. In Appendix C an introduction to Gauss quadrature is provided. In Appendix D, all the conclusions which are needed for proofs are presented, and in Appendix E a method to compute the convergence rate empirically is included.


Produktdetails
Applied Mathematical Sciences 196
Verlag: Springer / Springer, Berlin
Artikelnr. des Verlages: 978-3-319-86181-4
Softcover reprint of the original 1st ed. 2017
Seitenzahl: 412
Erscheinungstermin: 10. August 2018
Englisch
Abmessung: 235mm x 155mm x 22mm
Gewicht: 629g
ISBN-13: 9783319861814
ISBN-10: 3319861816
Artikelnr.: 55723905
Preface.- Prologue.- Brownian Motion and Stochastic Calculus.- Numerical Methods for Stochastic Differential Equations.- Part I Stochastic Ordinary Differential Equations.- Numerical Schemes for SDEs with Time Delay Using the Wong-Zakai Approximation.- Balanced Numerical Schemes for SDEs with non-Lipschitz Coefficients.- Part II Temporal White Noise.- Wiener Chaos Methods for Linear Stochastic Advection-Diffusion-Reaction Equations.- Stochastic Collocation Methods for Differential Equations with White Noise.- Comparison Between Wiener Chaos Methods and Stochastic Collocation Methods.- Application of Collocation Method to Stochastic Conservation Laws.- Part III Spatial White Noise.- Semilinear Elliptic Equations with Additive Noise.- Multiplicative White Noise: The Wick-Malliavin Approximation.- Epilogue.- Appendices.- A. Basics of Probability.- B. Semi-analytical Methods for SPDEs.- C. Gauss Quadrature.- D. Some Useful Inequalities and Lemmas.- E. Computation of Convergence Rate.
---