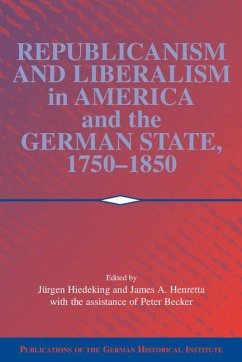 Produktdetails
Publications of the German Historical Institute
Verlag: Cambridge University Press
Seitenzahl: 320
Erscheinungstermin: 30. September 2008
Englisch
Abmessung: 229mm x 152mm x 18mm
Gewicht: 560g
ISBN-13: 9780521100984
ISBN-10: 0521100984
Artikelnr.: 25686745
Introduction Jürgen Heideking and James A. Henretta; Part I. Overview: 1. 'Wir nennen's Gemeinism' (we call it public spirit): Republic and Republicanism in the German political discussion of the nineteenth century Rudolf Vierhaus; Part II. The Republican World: 2. The concept of the Republic in eighteenth-century German thought Hans Erich Bödeker; 3. Kant's Republicanism and its consequences Otto Dann; 4. Constitutions, charity, and liberalism in comparative perspective: Germany and the Anglo-American tradition A. G. Roeber; 5. Politics and sentiment: Catharine Macaulay's Republicanism Vera Nünning; 6. Between Liberalism and Republicanism: 'manners' in the political thought of Mercy Otis Warren Rosemarie Zagarri; Part III. The Transition from Republicanism to Liberalism: 7. The Liberal Democratic Republicanism of the first American State constitutions, 1776-80 Willi Paul Adams; 8. Bennington and the Green Mountain Boys: the emergence of Liberal Democracy in Vermont, 1760-1850 Robert E. Shalhope; 9. The birth of American Liberalism: New York, 1820-60 James A. Henretta; 10. Republicanism, Liberalism, and market society: party formation and party ideology in Germany and the United States, c.1825-50 Paul Nolte; 11. Festive culture and national identity in America and Germany Jürgen Heideking; 12. Charles Follen's Perception of Republicanism in Germany and the United States, 1815-40 Edmund Spevack; Part IV. The Logic of Liberalism: 13. 'The right to possess all the faculties that God has given': possessive individualism, slave women, and abolitionist thought Amy Dru Stanley; 14. Freedom of contract and freedom of person: a brief history of 'involuntary servitude' in American fundamental law Robert J. Steinfeld.