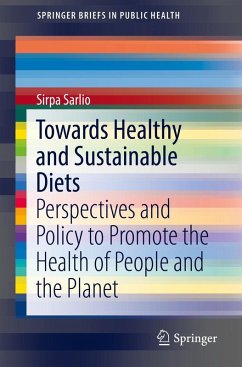 Supporting healthy people and communities within planetary boundaries
Reduction and prevention of food waste
Combining health and sustainability on the plate
"Serving sustainable and healthy food to consumers and decision makers": from commitment to action.
Investing in healthier and more sustainable production.
Ensuring a healthy sustainable diet is a goal of all public policies.
Towards Healthy and Sustainable Diets is geared toward professionals and policymakers dealing with food, nutrition, and environmental topics seeking new perspectives on longstanding issues in these interrelated areas. It also makes a suitable reference for students studying and conducting research in these areas.
---
Dieser Download kann aus rechtlichen Gründen nur mit Rechnungsadresse in A, B, BG, CY, CZ, D, DK, EW, E, FIN, F, GB, GR, HR, H, IRL, I, LT, L, LR, M, NL, PL, P, R, S, SLO, SK ausgeliefert werden.
Produktdetails
Verlag: Springer-Verlag GmbH
Erscheinungstermin: 22.02.2018
Englisch
ISBN-13: 9783319742045
Artikelnr.: 52904290
I. "Sustainability is more than just reducing greenhouse emissions" Different perspectives to healthy and sustainable diets Sustainability can be defined in many ways. This chapter describes different dimensions of sustainability, such as climate impact, chemical load, use of resources, biodiversity, and eutrophication, together with different types of diets and food systems. It also highlights the importance of social and economic sustainability as well as ethical issues, cultural sensitivity, and health as part of sustainability. The main message is that multidisciplinary, intersectoral, and systemic approaches are needed to develop more sustainable food systems that contribute to healthy dietary habits and a healthy planet. II. "Who wasted our food?" Towards better balance Our current food system is badly out of balance. The current agricultural system is producing enough food to feed the planet, but access to and consumption of it is very uneven. About 212 million children are undernourished, whereas 42 million children and 1.9 billion adults are overweight due to overconsumption of especially energy-rich foods. Moreover, about half of all food that is produced is never eaten but lost during harvest, transport, processing, or storage. This chapter discusses these topics including food security and different innovative ways to reduce food waste. III. "Insects, aquaculture, and mycoproteins instead of beef tomorrow?" Choosing for healthy and sustainable meals This chapter focuses on evaluating both health aspects and sustainability of different food categories, such as meat and dairy, fish, insects, plant-based foods, and fats and oils. Traditional diets, novel approaches, and ultra-processed foods also will be discussed. The main message is that although there are no universally accepted methods to rank individual foods, broad guidelines on healthy and sustainable diets are relatively easy to give. These guidelines to healthy and sustainable diets are briefly described. IV. "Are ecological products really healthier and more sustainable?" Reshaping our food production Our food systems are responsible for about one-third of global greenhouse gas emissions, more than what results from all transport, sea, land, and air, combined. We need to use our scare resources in more sustainable and efficient ways. Increasing global trade is both a threat and an opportunity. This chapter discusses potential solutions to healthy and sustainable food production, such as circular systems, better production methods, and a more holistic approach to the production of healthy foods. V. "We need to make commitments and guidelines for healthy AND sustainable diets" Getting nutrition and sustainability into the agendas of consumers and decision makers Although most countries have nutrition policy, sustainability is rarely incorporated into dietary guidelines or paid serious attention in food and nutrition policies. Moreover, consumer knowledge on healthy and sustainable diets is often limited. There is lack of coherence in politics, and powerful corporate, political, and other interests tend to impede the process. This chapter presents some country examples and discusses barriers and potential approaches to move sustainability and health higher up in the agenda of consumers and decision makers.