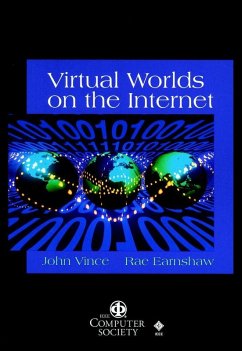 Produktdetails
Practitioners Nr.30
Verlag: INST OF ELECTRICAL & ELECTRONI
Seitenzahl: 360
Erscheinungstermin: Januar 1999
Englisch
Abmessung: 255mm x 179mm x 19mm
Gewicht: 581g
ISBN-13: 9780818687006
ISBN-10: 0818687002
Artikelnr.: 21035058
Introduction

Chapter 1: Data Flow Languages for Immersive Virtual Environments(Anthony Steed, Department of Computer Science, University CollegeLondon).

Chapter 2: VRML Interfaces to Information Systems (Christine Clarkand Adrian F. Clark, VASE Laboratory, University of Essex).

Chapter 3: VRML: A Designer's View (Stephen Boyd Davis, Centre forElectronic Arts, Middlesex University;
Helena Athoussaki, BT Laboratories).

Chapter 4: Ulysse: An Interactive Spoken Dialogue Interface toNavigate in Virtual Worlds (Christopher Godereaux, Pierre-OlivierEl Guedj, Frederic Revolta, and Pierre Nugues, Institut desSciences de la Matiere et du Rayonnement).

Chapter 5: Information Drill-Down Using Web Tools (Mikael Jern,AVS/UNIRAS).

Chapter 6: Generic Uses of Real World Data in Virtual Environments(M.W. Wright, G.C. Watson, and R.L. Middleton, Edinburgh VirtualEnvironment Centre, University of Edinburgh).

Chapter 7: A Generic Functional Architecture for the Development ofMultiuser 3-D Environments (Tao Lin and Kevin Smith, CSIROMathematical and Information Sciences).

Chapter 8: Strategies for Mutability in Virtual Environments (BenAnderson and Andrew McGrath, BT Laboratories).

Chapter 9: Bringing the MBone to Web Users (Adrian F. Clark, VASELaboratory, University of Essex).

Chapter 10: Handling of Dynamic 2-D/3-D Graphics in Narrow-BandMobile Services (C. Belz, H. Jung, L. Santos, and R. Strack,Computer Graphics Center (ZGDV);
P. Latva-Rasku, Nokia Research Center (NRC).

Chapter 11: Realistic Avatars and Autonomous Virtual Humans inVLNET Networked Virtual Environments (Tolga K. Capin and DanielThalmann, Computer Graphics Laboratory, Swiss Federal Institute ofTechnology;
Igor Sunday Pandzic and Nadia Magnenat Thalmann, MIRALab,University of Geneva).

Chapter 12: Interactive Cloth Simulation: Problems and Solutions(Pascal Volino and Nadia Magnenat Thalmann, MIRALab, University ofGeneva).

Chapter 13: The Blob Tree: Implicit Modelling and VRML (BrianWyvill and Andrew Guy, Department of Computer Science, Universityof Calgary).

Chapter 14: Automatic Generation of Virtual Worlds for ElectronicCommerce Application on the Internet (Klaus M. Bauer, ComputerGraphics Center (ZGDV e.V.).

Chapter 15: A Case Study in the Use of VRML 2.0 for Marketing aProduct (Nick D. Burton, Alistair C. Kilgour, and Hamish Taylor,Department of Computing and Electrical Engineering, Heriot-WattUniversity).

Chapter 16: A Virtual Environment for Collaborative Administration(D. England, Connect Centre, University of Liverpool;
W. Prinz, GMD FIT-CSCW Institute;
K. Simarian and O. St?hl, Swedish Institute for ComputerScience).

Chapter 17: Collaborative Theatre Set Design across Networks (IanJ. Palmer and Carlton M. Reeve, EIMCU, University ofBradford).

Chapter 18: Moving the Museum onto the Internet: The Use of VirtualEnvironments in Education about Ancient Egypt (William L. Mitchell,Department of Computing, Manchester Metropolitan University).

Chapter 19: The Virtual Reality Responsive Workbench: Applicationsand Experiences (Lawrence Rosenblum, James Durbin, Robert Doyle,and David Tate, Virtual Reality Lab, Naval ResearchLaboratory).

Chapter 20: Inner Space: The Final Frontier (David Leevers,Multimedia Communications, BICC Group).

Figures in Color

Index.