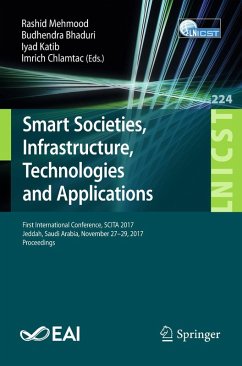 Andere Kunden interessierten sich
auch
für

The 35 revised full papers were carefully reviewed and selected from 62 submissions. The papers are grouped in topical sections: infrastructure track, e-governance and transportation track, healthcare track, applications track.

Produktdetails
Lecture Notes of the Institute for Computer Sciences, Social Informatics and Telecommunications Engi .2
Artikelnr. des Verlages: 978-3-319-94179-0
1st ed. 2018
Erscheinungstermin: 22. Juli 2018
Englisch
Abmessung: 235mm x 155mm x 20mm
Gewicht: 581g
ISBN-13: 9783319941790
ISBN-10: 3319941798
Artikelnr.: 52625284
Superclouds : Scalable High Performance Nonstop Infrastructure for AI and Smart Societies.- Artificial Intelligence Computing for a Smart City.- Cities are Getting Smarter Than Ever Before Big Data and HPC Convergence: The Cutting Edge and Outlook.- A Framework for Faster Porting of Scientific Applications between Heterogeneous Clouds.- Efficient Execution of Smart City's Assets through a Massive Parallel Computational Model.- Power Efficiency of a SBC based Hadoop Cluster Internet of Vehicles: Integrated Services over Vehicular Ad hoc Networks.- Secure Communication Protocol Between Two Mobile Devices Over Short Distances.- A Theoretical architecture for TM through Software.- Defined mobile network in 5G environments E-Governance and Transportation Track.- Smart Cities and the New Urban Analytics: Opportunities and Challenges in Urban Transport.- Analysis of Tweets in Arabic Language for Detection of Road Traffic Conditions.- Automatic Event Detection in Smart Cities Using Big Data Analytics.- Location Privacy in Smart Cities Era.- Disaster Management in Smart Cities by Forecasting.- Traffic Plan using Deep Learning and GPUs.- D2TFRS: An Object Recognition method for Autonomous Vehicles based on RGB and Spatial Values of Pixels.- Enabling Reliable and Resilient IoT based Smart City Applications.- Maintaining Trust through Continuous Assessment Preserving Privacy of Smart Cities based on the Fog Computing.- Toward the Genomic-Information Society.- A Lightweight and Secure Framework for Hybrid Cloud based EHR Systems.- Big Data Enabled Healthcare Supply Chain Management: Opportunities and Challenges.- DNA Profiling Methods and Tools: A Review.- A Smart Pain Management System Using Big Data Computing.- Towards a Semantically Enriched Computational Intelligence (SECI) Framework for Smart Farming.- Towards a Mobile Cloud Framework for First Responder.- Teams in Smart Emergency Management.- The Application of Geographic Information System (GIS) on five basic indicators of Sustainable Urban Transport Performance.- Designing PID Controller based Semi-Active Suspension.- System using MATLAB Simulink.- Performance Evaluation of Jacobi Iterative Solution for Sparse Linear Equation System on Multicore and Manycore Architectures.- Parallel Sparse Matrix Vector Multiplication on Intel.- MIC: Performance Analysis.- Parallel Shortest Path Graph Computations of United States Road Network Data on Apache Spark.- A Safety IoT-Based System for a Closed Environment.- IoT-based Implementation and Mobility-driven Management of the Smart and Energy Efficient Home Appliance Ecosystem.- Land Suitability Assessment for The Potential Location of Transit Oriented Development (TOD).- Towards a Model-Based Testing Framework for the Security of Internet of Things for Smart City Applications.