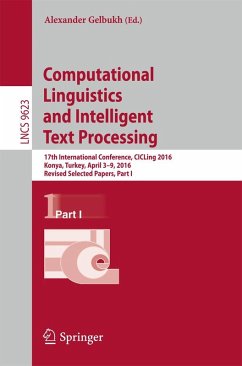 Andere Kunden interessierten sich
auch
für


The total of 89 papers presented in the two volumes was carefully reviewed and selected from 298 submissions. The book also contains 4 invited papers and a memorial paper on Adam Kilgarriff's Legacy to Computational Linguistics.

The papers are organized in the following topical sections:

Part I: In memoriam of Adam Kilgarriff; general formalisms; embeddings, language modeling, and sequence labeling; lexical resources and terminology extraction; morphology and part-of-speech tagging; syntax and chunking; named entity recognition; word sense disambiguation and anaphora resolution; semantics, discourse, and dialog.

Part II: machine translation and multilingualism; sentiment analysis, opinion mining, subjectivity, and social media; text classification and categorization; information extraction; and applications.


Produktdetails
Lecture Notes in Computer Science .9623
Artikelnr. des Verlages: 978-3-319-75476-5
1st ed. 2018
Seitenzahl: 712
Erscheinungstermin: 21. März 2018
Englisch
Abmessung: 235mm x 155mm x 37mm
Gewicht: 1060g
ISBN-13: 9783319754765
ISBN-10: 3319754769
Artikelnr.: 50600430
Adam Kilgarriff's Legacy to Computational Linguistics and Beyond.- General Formalisms.- A Roadmap towards Machine Intelligence.- Algebraic specification for interoperability between data formats: Application on Arabic lexical data.- Persianp: a Persian Text Processing Toolbox.- Embeddings, Language Modeling, and Sequence Labeling.- Generating Bags of Words from the Sums of their Word Embeddings.- New word analogy corpus for exploring embeddings of Czech words.- Using embedding models for lexical categorization in morphologically rich languages.- A new language model based on possibility theory.- Combining Discrete and Neural Features for Sequence Labeling.- New Recurrent Neural Network Variants for Sequence Labeling.- Lexical Resources and Terminology Extraction.- Mining the Web for Collocations: IR Models of Term Associations.- A Continuum-based Model of Lexical Acquisition.- DESCRIPTION OF TURKISH PARAPHRASE CORPUS STRUCTURE AND GENERATION METHOD.- Extracting Terminological Relationships from Historical Patterns of Social Media Terms.- Adaptation of cross-lingual transfer methods for the building of medical terminology in Ukrainian.- Adaptation of a term extractor to Arabic specialised texts: first experiments and limits.- Morphology and Part-of-Speech Tagging.- Corpus Frequency and Affix Ordering in Turkish.- Pluralising Nouns in isiZulu and Related Languages.- Morphological Analysis of Urdu Verbs.- Stemming and Segmentation for Classical Tibetan.- Part of Speech Tagging for Polish: State of the Art and Future Perspectives.- Turkish PoS Tagging by Reducing Sparsity with Morpheme Tags in Small Datasets.- Part-of-Speech Tagging for Code mixed English-Telugu Social media data.- Syntax and Chunking.- Analysis of Word Order in Multiple Treebanks.- A Framework for Language Resource Construction and Syntactic Analysis: Case of Arabic.- Enhancing Neural Network based Dependency Parsing Using Morphological Information for Hindi.- Construction Grammar based Annotation Framework for parsing Tamil.- Comparative Error Analysis Of Parser Outputs On Telugu Dependency Treebank Data.- Gut, Besser, Chunker - Selecting the best models for text chunking with voting.- Named Entity Recognition.- A Deep Learning Solution to Named Entity Recognition.- Deep Learning Approach for Arabic Named Entity Recognition.- Hybrid Feature Selection Approach for Arabic Named Entity Recognition.- Named-Entity-Recognition (NER) for Tamil Language Using Margin-Infused Relaxed Algorithm (MIRA).- Word Sense Disambiguation and Anaphora Resolution.- Word Sense Disambiguation Using Swarm Intelligence: A Bee Colony Optimization Approach.- Verb Sense Annotation For Turkish PropBank via Crowdsourcing.- Coreference Resolution for French Oral Data: Machine Learning Experiments with ANCOR.- Arabic Anaphora resolution using Markov decision process.- Arabic Pronominal Anaphora Resolution Based on New Set of Features.- Semantics, Discourse, and Dialog.- GpSense: A GPU-friendly method for common-sense subgraph matching in massively parallel architectures.- Parameters driving effectiveness of LSA on topic segmentation.- A New Russian Paraphrase Corpus. Paraphrase Identification and Classification Based on Different Prediction Models.- Constructing A Turkish Corpus for Paraphrase Identification and Semantic Similarity.- Evaluation of Semantic Relatedness Measures for Turkish Language.- Using sentence semantic similarity to improve LMF standardized Arabic dictionary quality.- Multiword Expressions (MWE) for Mizo Language: Literature Survey.- Classification of Textual Genres using Discourse Information.- Features for discourse-new referent detection in Russian.- A Karaka Dependency based Dialog Act Tagging for Telugu using Combination of LMs and HMM.