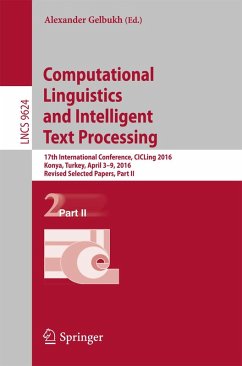 The total of 89 papers presented in the two volumes was carefully reviewed and selected from 298 submissions. The book also contains 4 invited papers and a memorial paper on Adam Kilgarriff's Legacy to Computational Linguistics.
The papers are organized in the following topical sections:
Part I: In memoriam of Adam Kilgarriff; general formalisms; embeddings, language modeling, and sequence labeling; lexical resources and terminology extraction; morphology and part-of-speech tagging; syntax and chunking; named entity recognition; word sense disambiguation and anaphora resolution; semantics, discourse, and dialog.
Part II: machine translation and multilingualism; sentiment analysis, opinion mining, subjectivity, and social media; text classification and categorization; information extraction; and applications.
---
Dieser Download kann aus rechtlichen Gründen nur mit Rechnungsadresse in A, B, BG, CY, CZ, D, DK, EW, E, FIN, F, GR, HR, H, IRL, I, LT, L, LR, M, NL, PL, P, R, S, SLO, SK ausgeliefert werden.
Produktdetails
Verlag: Springer-Verlag GmbH
Seitenzahl: 632
Erscheinungstermin: 20. März 2018
Englisch
ISBN-13: 9783319754871
Artikelnr.: 52941671
Machine Translation and Multilingualism.- Enabling Medical Translation for Low-Resource Languages.- Combining Phrase and Neural-based Machine Translation: what worked and did not.- Combining machine translated sentence chunks from multiple MT systems.- Forest to String Based Statistical Machine Translation with Hybrid Word Alignments.- Instant Translation Model Adaptation by Translating Unseen Words in Continuous Vector Space.- Fast-Syntax-Matching-based Japanese-Chinese Limited Machine Translation.- A Classifier-based Preordering Approach for English-Vietnamese Statistical Machine Translation.- Quality Estimation for English-Hungarian Machine Translation Systems with Optimized Semantic Features.- Genetic-based decoder for statistical machine translation.- Bilingual Contexts from Comparable Corpora to Mine for Translations of Collocations.- Bi-Text Alignment of Movie Subtitles for Spoken English-Arabic Statistical Machine Translation.- A Parallel Corpus of Translationese.- A Low Dimensionality Representation for Language Variety Identification.- Sentiment Analysis, Opinion Mining, Subjectivity, and Social Media.- Towards Empathetic Human-Robot Interactions.- Extracting Aspect Specific Sentiment Expressions implying Negative Opinions.- Aspect Terms Extraction of Arabic Dialects for Opinion Mining Using Conditional Random Fields.- Large Scale Authorship Attribution of Online Reviews.- Discovering Correspondence of Sentiment Words and Aspects.- Aspect Based Sentiment Analysis: Category Detection and Sentiment Classifcation for Hindi.- A New Emotional Vector Representation For Sentiment Analysis.- Cascading Classifiers for Twitter Sentiment Analysis with Emotion Lexicons.- A Multilevel Approach to Sentiment Analysis of Figurative Language in Twitter.- Determining sentiment in citation text and analyzing its impact on the proposed ranking index.- Combining Lexical Features and a Supervised Approach for Arabic Sentiment Analysis.- Sentiment analysis in Arabic Twitter posts using supervised methods with combined features.- Interactions between Term Weighting and Feature Selection Methods for Sentiment Analysis of Turkish Reviews.- Developing a concept-level knowledge base for sentiment analysis in Singlish.- Using syntactic and semantic features for classifying modal values in the Portuguese language.- Detecting the Likely Causes behind the Emotion Spikes of Influential Twitter Users.- Age Identification of Twitter Users: Classification Methods and Sociolinguistic Analysis.- Mining of Social Networks from Literary Texts of Resource Poor Languages.- Collecting and Annotating Indian Social Media Code-Mixed Corpora.- Turkish Normalization Lexicon for Social Media.- Text Classification and Categorization.- Introducing Semantics in Short Text Classification.- Topics and Label Propagation: Best of Both Worlds for Weakly Supervised Text Classification.- Deep Neural Networks for Czech Multi-label Document Classification.- Turkish Document Classification with Coarse-grained Semantic Matrix.- Supervised Topic Models for Diagnosis Code Assignment to Discharge Summaries.- Information Extraction.- Identity and Granularity of Events in Text.- An informativeness approach to Open IE evaluation.- End-to-End Relation Extraction using Markov Logic Networks.- Knowledge Extraction with NooJ Using a syntactico-Semantic Approach for the Arabic Utterances Understanding.- Adapting TimeML to Basque: Event annotation.- Applications.- Deeper summarisation: the second time around.- Tracing Language Variation for Romanian.- Aoidos: A System for the Automatic Scansion of Poetry Written in Portuguese.