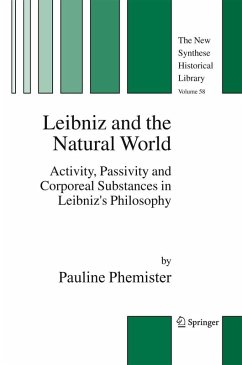 Produktdetails
The New Synthese Historical Library Vol.58
Verlag: Springer Netherlands
Softcover reprint of hardcover 1st ed. 2005
Seitenzahl: 316
Erscheinungstermin: 28. Oktober 2010
Englisch
Abmessung: 240mm x 160mm x 17mm
Gewicht: 508g
ISBN-13: 9789048168552
ISBN-10: 9048168554
Artikelnr.: 32094540
Preface. Abbreviations. Introduction.
1. Substances: Public and Private. The public monad. Monads and Cartesian minds: the French connection. Disagreement with Descartes. First entelechies.
2. Primary Matter. Substantial form and primary matter. Complete and incomplete substances. Completion of the active and the passive. Naturally necessary extension.
3. Extension. Continuity. Plurality and discrete repetition. Co-existence. Completion of the entelechy. Complete corporeal substances.
4. The Composition of Bodies. Aggregates of substances. Metaphors and similes. The Fardella Notes. Parts and wholes.
5. The Composition of the Continuum. The real versus the ideal. The Cartesian continuum and alternatives. Reality and ideality of corporeal substances.
6. Perceptions and Perceivers. Perceptions and perceivers. Perceptual multiplicity. Independence and solipsism.
7. Phenomenal Bodies. Spiritual phenomenalism. Monadological phenomenalism. Corporeal substance phenomenalism. Real Phenomena. Rainbows. First and third person perspectives.
8. Derivative Forces. Derivative active force. Modifications. Derivative passive force. Pre-established Harmony. Derivative forces and perceptions. Harmony of mind and body. Alleged priority of internal modifications. Multiple harmonies. Final and efficient causes. Nature and grace.
9. Freedom. The perfection of the world. Evil. Passivity and freedom. Appetition. Body. Moral evil.
Bibliography. Index of Names. Index of Subjects.
"[ Leibniz and the Natural World ] lives up admirably to its ambitious aims. [...] in arguing for her main thesis, Phemister also provides an original and fascinating approach to two formidable challenges in Leibniz's scholarship. [...] There is much more to be found in this rich book, which any serious student of Leibniz's metaphysics should study." (Ohad Nachtomy, Bar-Ilan University, Israel, in British Journal for the History of Philosophy 16:1, 2008) "[...] Phemister's book is a defiant attempt to free Leibniz from the fetters of this misinterpretation, and her eloquent arguments will do much to turn the tide in favour of a more balanced assessment of his natural philosophy." (Richard Arthur, McMaster University, Ontario, Canada, in The Philosophical Quarterly 57:226, 2007) "Phemister's book is a clear and insightful study [...], and deserves the attention of everyone who wishes to appreciate Leibniz in all his depth and range." (Justin E.H. Smith, Concordia University, Canada, in The Leibniz Review Vol. 16, 2006)