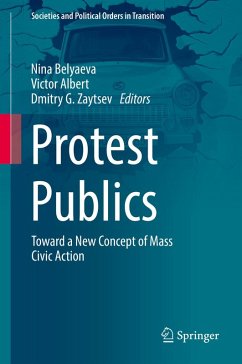 The authors argue that this recent wave of protests is driven by a new type of social actor: self-organized publics. In some cases these protest publics can lead to democratic reform and redistributive policies, while in others they can produce destabilization, ethnic and nationalist populism, and authoritarianism. This book will help readers to better understand how seemingly spontaneous public events and protests evolve into meaningful, well-structured collective action and come to shape political processes in diverse regions of the globe.
---
Dieser Download kann aus rechtlichen Gründen nur mit Rechnungsadresse in A, B, BG, CY, CZ, D, DK, EW, E, FIN, F, GR, HR, H, IRL, I, LT, L, LR, M, NL, PL, P, R, S, SLO, SK ausgeliefert werden.
Produktdetails
Verlag: Springer-Verlag GmbH
Erscheinungstermin: 10.05.2019
Englisch
ISBN-13: 9783030054755
Artikelnr.: 56953129
Self-Organized Publics in Mass Protests: An Introduction.- PART I: Dimensions of Protest Publics in the Recent Wave of Unrest .- Exploring Protest Publics: A New Conceptual Frame for Civil Participation Analysis.- Shoulder to Shoulder against Fascism: Publics in Gezi Protests.- Emergent Protest Publics in India and Bangladesh: A Comparative Study of Anti-Corruption and Shahbag Protests.- The Grammar of Protest Publics in Skopje, Macedonia, May 2015.- Retracing Public Protest in Portugal: A Generation in Trouble.- Justification in Protest Publics: The Homeless Workers' Movement in Brazil's Crisis.- So Strong, Yet So Weak: The Emergence of Protest Publics in Iceland in the Wake of the Financial Crisis.- Five Stars of Change: The Transformation of Italian Protest Publics into a Movement Party through Grillo's Blog.- PART II: Protest Publics and Political Change in Different Political Regimes .- Cross-national Comparison of Protest Publics' Roles as Drivers of Change: from Clusters to Models.- Protesters as the "Challengers of the Status-Quo" in Embedded Democracies: The Cases of Iceland, the United Kingdom and the United States.- Protest Publics as the "Watchdogs" of the Quality of Democracy in Global South.- Protest Publics as the Triggers of Political Changes in Hybrid Regimes: The Cases of Tunisia, Morocco and Egypt.- Protest Publics as Democratic Innovators in an Authoritarian Environment.- The Transforming Role of Protest Publics in Processes of Sociopolitical Change in the Global South and Southern Europe: From Occasional Challengers to Institutionalized Watchdogs.- Conclusion: The Common Features and Different Roles of Protest Publics in Political Contestation.