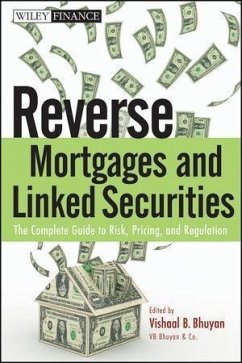 ---
Dieser Download kann aus rechtlichen Gründen nur mit Rechnungsadresse in A, D ausgeliefert werden.
Produktdetails
Verlag: John Wiley & Sons
Seitenzahl: 208
Erscheinungstermin: 01.11.2010
Englisch
ISBN-13: 9780470921517
Artikelnr.: 37300344
Preface. Acknowledgments. List of Contributors. Part One Reverse Mortgage Basics. Chapter 1 Reverse Mortgage Primer. Loan Disbursements. Overview of Lender Challenges. Summary. Chapter 2 The History of Reverse Mortgages
an Insider's View. Formative Years. Private Programs. First Lifetime Reverse Mortgages. Fannie Mae Stakes a Claim to the Marketplace. Roots of the Securitization of Reverse Mortgages. Summary. Chapter 3 HECM Explained Reverse Mortgages Originated through the Home Equity Conversion Mortgage (HECM) Program. Legislative History and Program Fundamentals. Disbursing Funds and Calculating Loans and Interest. Changes to the Program Following the 2008 Act. Consumer Focused Elements of the Program. Summary. Part Two Underwriting and Risk Analysis. Chapter 4 Underwriting Reverse Mortgages. Underwriting Life Expectancy. Life Settlement versus Reverse Mortgage Underwriting. Simplicity of the Current Reverse Mortgage Underwriting Process. Why Does Underwriting Matter? Proposed Elements of Reverse Mortgage Underwriting. Summary. Chapter 5 Risk Mitigation from Existing and Proposed Financial Products. Reverse Mortgage Risks. Agency versus Non
Conforming Loans. Summary. Chapter 6 Longevity Risk and Fair Value Accounting. Longevity Cost Calculator(TM) as a Loan Underwriting and Pricing Tool. Reverse Mortgage Loan Pricing Using the Longevity Cost Calculator Existing Accounting Framework. Suggested GAAP Compliant Methodology to Standardize Life Settlement Underwriting. Summary. Chapter 7 Risk Mitigation Available Hedges & Products in Development for Risk Transfer. Hedging Crossover Components in the Capital Markets. Insurance Solutions. Summary. Chapter 8 Criteria for Rating U.K. Reverse Mortgage
Backed Securities. Overview of Reverse (Equity Release) Mortgages. Reverse Mortgage
Backed Securitization. Mortality Assumptions. Prepayment Assumptions. House Price Increase Assumptions. HPI in Year 1. HPI in Years 5
15. HPI in Years 16 to Legal Final Maturity Date. Costs and Sale Period. Summary. Part Three Tax Treatment. Chapter 9 United States Federal Income Tax Aspects of Reverse Mortgages. What is a Reverse Mortgage? Deductibility of Interest Payments on Reverse Mortgages. Securitization of Reverse Mortgage Loans Through REMIC Structures. Practical Observations Regarding Investment Reverse Mortgage REMIC Securities. Summary. Part Four Reverse Mortgages in Context. Chapter 10 Unlocking Housing Equity in Japan. Implementation in the Japanese Context. Feasibility of Reverse Mortgages in Japan. Summary. Chapter 11 The Secondary Market in Home Equity Conversion Mortgages. The Reverse Mortgage to Liquidate Home Equity. HECM: A Financial Innovation. Cash Flows, Risk, and Uncertainty. The Secondary Market for HECM. HECM Securitization. Longevity Risk Embedded in HECM. The Constraints of the Underlying Asset. Concluding Remarks. Summary. Appendix A Housing Wealth Among the Elderly. Wealth in Housing. Owner
Occupancy Rates. How Risky is Housing Wealth? Do the Elderly Decumulate their Housing Wealth? Appendix B: Reverse Mortgage Analytics. Determining the Payout Values: Practical Considerations. Computing Payout Values: An Example. Notes. Glossary. About the Author. About the Contributors. Index.