Nicht lieferbar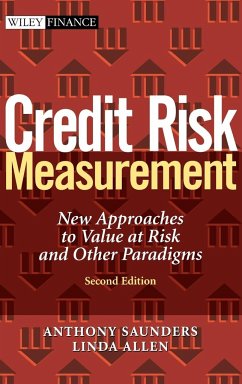 Andere Kunden interessierten sich
auch
für
Produktdetails
2nd edition
Seitenzahl: 336
Erscheinungstermin: März 2002
Englisch
Abmessung: 243mm x 164mm x 25mm
Gewicht: 617g
ISBN-13: 9780471219101
ISBN-10: 047121910X
Artikelnr.: 11060274
List of Abbreviations. Why New Approaches to Credit Risk Measurement and Management? Traditional Approaches to Credit Risk Measurement. The BIS Basel International Bank Capital Accord: January 2002. Loans as Options: The KMV and Moody's Models. Reduced Form Models: KPMG's Loan Analysis System and Kamakura's Risk Manager. The VAR Approach: CreditMetrics and Other Models. The Macro Simulation Approach: The CreditPortfolio View and Other Models. The Insurance Approach: Mortality Models and the CSFP Credit Risk Plus Model. A Summary and Comparison of New Internal Model Approaches. Overview of Modern Portfolio Theory and Its Application to Loan Portfolios. Loan Portfolio Selection and Risk Management. Stress Testing Credit Risk Models: Algorithmics Mark
to
Future. Risk
Adjusted Return on Capital Models. Off
Balance
Sheet Credit Risk. Credit Derivatives. Bibliography. Notes. Index.