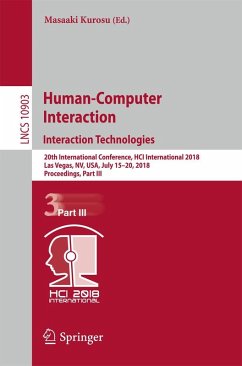 Produktdetails
Lecture Notes in Computer Science .10903
Artikelnr. des Verlages: 978-3-319-91249-3
1st ed. 2018
Erscheinungstermin: 1. Juni 2018
Englisch
Abmessung: 236mm x 157mm x 32mm
Gewicht: 803g
ISBN-13: 9783319912493
ISBN-10: 3319912496
Artikelnr.: 52330724
Input techniques and devices.- SliT: Character Input System Using Slide-in and Tap for Smartwatches.- Employing Shortcut Setting and Subitizing Effect for Improving UI of Multi Media Kiosks.- Flickey: Flick-Based QWERTY Software Keyboard for Ultra-small Touch Screen Devices.- A New Japanese Input Method for Virtual Reality Applications.- A New Virtual Keyboard with Finger Gesture Recognition for AR/VR Devices.- Ex-Space: Expanded Space Key by Sliding Thumb on Home Position.- Character Input by Gesture Performed with Grasping both Ends of Tablet PC.- Entry and Selection Methods for Specifying Dates in Mobile Context.- Speech-based interfaces and chatbots.- Chatbot in a Campus Environment: Design of LiSA, a Virtual Assistant to Help Students in their University Life.- Voice User Interface Interaction Design Research Based on User Mental Model in Autonomous Vehicle.- Application of Logistic Regression Analysis of Smartphone Speech Interaction Usage in China: A Questionnaire-Based Study of 622 Adults.- An Adaptive Speech Interface for Assistance in Maintenance and Changeover Procedures.- Comparing cascaded LSTM architectures for generating head motion from speech in task-oriented dialogs.- Acoustic Feature Comparison for Different Speaking Rates.- Expressing Mixed Emotions via Gradient Color: An Interactive Online Chat Interface Design Based on Affective Recognition.- Lucida: Enhancing the Creation of Photography through Semantic, Sympathetic, Augmented, Voice Agent Interaction.- Gesture, motion and eye-tracking based interaction.- Shopping Together: A Remote Co-shopping System Utilizing Spatial Gesture Interaction.- Evaluating Tap-And-Drag: A Single-Handed Zooming Method.- Developing Female Clothing Coordination Generation System Using Eye Tracking Information.- Analyzing gaze Behavior Prior to Interacting with a Multimedia Interface in a Car.- Intuitive 3D Model Prototyping with Leap Motion and Microsoft Hololens.- A Novel Hand Written Technique Using Touch-Less Finger Gesture Movement for Human Computer Interaction.- A Mobile Command Input Through Vowel Lip Shape Recognition.- Daily activity recognition based on acceleration of both wrists.- Orientation Correction for a 3D Hand Motion Tracking Interface using Inertial Measurement Units.- A Gesture-Based Interaction Technique for a Passive RFID Card with an Acceleration Sensor.- Can People Sense Their Personalities Only by Watching the Movements of Their Skeleton in Street Dancing Performances?.- Exploration of Behavioral Markers to Support Adaptive Learning.- The Effect of Static and Dynamic Gesture Presentation on the Recognition of Two Manipulation Gestures.- Non-Invasive Gaze Direction Estimation from Head Orientation for Human-Machine Interaction.- Games and gamification.- TrackMaze: A Comparison of Head-tracking, Eye-tracking and Tilt as Input Methods for Mobile Games.- Gamification Framework: Using Lexical Approach on Social Media Application Online Reviews.- Competitively Versus Cooperatively? An Analysis of the Effect of Gameplay on Human Emotions and Behaviors.- Towards a Better Understanding of Chess Players' Personalities: A Study Using Virtual Chess Players.- Application of Gamification to Website Design for the Improvement of Effective Communication.- A Framework for the Assessment of Enjoyment in Video Games.- An Interactive Cat Toy Interfacing Owner PC Operations.- Improving Quality of Interaction with the Mobility Services through the Gamification Approach.- How to extend life cycle of an online game.