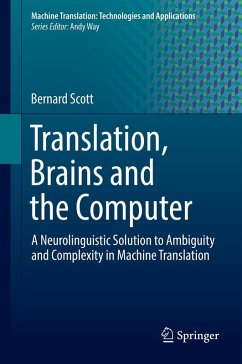 Andere Kunden interessierten sich
auch
für
---
Dieser Download kann aus rechtlichen Gründen nur mit Rechnungsadresse in A, B, BG, CY, CZ, D, DK, EW, E, FIN, F, GR, HR, H, IRL, I, LT, L, LR, M, NL, PL, P, R, S, SLO, SK ausgeliefert werden.
Produktdetails
Verlag: Springer-Verlag GmbH
Seitenzahl: 241
Erscheinungstermin: 6. Juni 2018
Englisch
ISBN-13: 9783319766294
Artikelnr.: 56792485
1 Introduction.- 2 Background.- Logos Model Beginnings.- Advent of Statistical MT.- Overview of Logos Model Translation Process.- Psycholinguistic and Neurolinguistic Assumptions.- On Language and Grammar.- Conclusion.- 3 - Language and Ambiguity: Psycholinguistic Perspectives.- Levels of Ambiguity.- Language Acquisition and Translation.- Psycholinguistic Bases of Language Skills.- Practical Implications for Machine Translation.- Psycholinguistics in a Machine.- Conclusion.- 4- Language and Complexity: Neurolinguistic Perspectives .- Cognitive Complexity.- A Role for Semantic Abstraction.- Connectionism and Brain Simulation.- Logos Model as a Neural Network.- Language Processing in the Brain.- MT Performance and Underlying Competence.- Conclusion.- 5 - Syntax and Semantics: Dichotomy or Integration? .- Syntax versus Semantics: Is There a Third, Semantico- Syntactic Perspective?.- Recent Views of the Cerebral Process.- Syntax and Semantics: How Do They Relate?.- Conclusion.- 6 -Logos Model: Design and Performance.- The Translation Problem.- How Do You Represent Natural Language?.- How Do You Store Linguistic Knowledge?.- How Do You Apply Stored Knowledge To The Input Stream?.- How do you Effect Target Transfer and Generation?.- How Do You Deal with Complexity Issues?.- Conclusion.- 7 - Some limits on Translation Quality.- First Example.- Second Example.- Other Translation Examples.- Balancing the Picture.- Conclusion.- 8 - Deep Learning MT and Logos Model.- Points of Similarity and Differences.- Deep Learning, Logos Model and the Brain.- On Learning.- The Hippocampus Again.- Conclusion.- Part II.- The SAL Representation Language.- SAL Nouns.- SAL Verbs.- SAL Adjectives.- SAL Adverbs.
"Natural language processing is one of the most rapidly evolving areas of artificial intelligence, and is the subject of this excellent book. ... One of the important contributions of this valuable resource is its presentation and comparison of many current state-of-the-art machine translation systems available to the general public. Summing Up: Recommended. Advanced undergraduates through faculty and professionals." (J. Brzezinski, Choice, Vol. 56 (6), February, 2019)