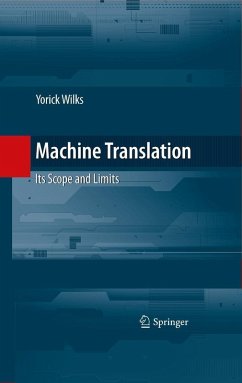 Andere Kunden interessierten sich
auch
für
---
Dieser Download kann aus rechtlichen Gründen nur mit Rechnungsadresse in A, B, BG, CY, CZ, D, DK, EW, E, FIN, F, GR, HR, H, IRL, I, LT, L, LR, M, NL, PL, P, R, S, SLO, SK ausgeliefert werden.
Produktdetails
Verlag: Springer-Verlag GmbH
Erscheinungstermin: 30. Oktober 2008
Englisch
ISBN-13: 9780387727745
Artikelnr.: 43732366
MT Past.- Five Generations of MT.- An Artificial Intelligence Approach to Machine Translation.- It Works but How Far Can It Go: Evaluating the SYSTRAN MT System.- MT Present.- Where Am I Coming From: The Reversibility of Analysis and Generation in Natural Language Processing.- What are Interlinguas for MT: Natural Languages, Logics or Arbitrary Notations?.- Stone Soup and the French Room: The Statistical Approach to MT at IBM.- The Revival of US Government MT Research in 1990.- The Role of Linguistic Knowledge Resources in MT.- The Automatic Acquisition of Lexicons for an MT System.- MT Future.- Senses and Texts.- Sense Projection.- Lexical Tuning.- What Would Pragmatics-Based Machine Translation be Like?.- Where was MT at the End of the Century: What Works and What Doesn't?.- The Future of MT in the New Millennium.
From the reviews:

"Yorick Wilks, one of the most famous MT researchers, gives an interesting overview of the past, present, and future of MT; thus, the reader learns about the scope and limits of MT, justifying the subtitle of the book. ... It could be useful to anyone working in the translation business and in NLP. Translators will learn about the historical context of MT, which will make it easier to understand its scope and limitations ... . In conclusion, I do recommend this book." (K. Waldhör, ACM Computing Reviews, June, 2009)

"This book presents the author's views and the culmination of his research in the field over the course of this period using his own previously published articles as a kind of roadmap through history, with additional afterwords supplementing most chapters bringing previous work into a more modern context. ... if you are looking to skim a stone through MT's history dipping into the extensive related work of this seasoned author, this book makes for an interesting and enjoyable read." (Sara Morrissey, Machine Translation, Vol. 23, 2009)