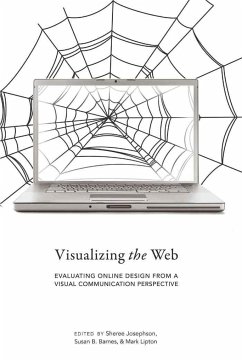 Produktdetails
Visual Communication .1
Artikelnr. des Verlages: .311145, 311145
Neuausg.
Erscheinungstermin: 8. Oktober 2010
Englisch
Abmessung: 226mm x 149mm x 17mm
Gewicht: 310g
ISBN-13: 9781433111457
ISBN-10: 1433111454
Artikelnr.: 32652776
Contents: Sheree Josephson/Susan B. Barnes/Mark Lipton: Introduction - Sally Gill: From Page to Screen and Beyond: The Evolution of Web Metaphors and Their Impact on Communication Design - Susanna Paasonen: Something New, Something Old, Something Borrowed: Web Pages and Visual Culture - Valerie V. Peterson: An Elemental Approach to Web Site Visuals - Craig Baehr: Thinking Visually: Heuristics for Web Site Analysis and Design - Sheree Josephson: Using Eye Tracking to See How Viewers Process Visual Information in Cyberspace - Roxanne O'Connell: Web Site Usability: Tips, Techniques, and Methods - Ulla Bunz/Juliann Cortese: How Do Users Evaluate Web Sites? - Susan B. Barnes: Visual Evaluation of the World Wide Web - Amanda Carlson/Sheree Josephson: Epilogue: An Interview with Hillman Curtis.
"As we move from a world of text and conversation to one of screens and imagery, our ability to communicate visually will determine not just our success in this new terrain, but our ability to orient, understand, and make meaning. These essays provide the foundations for navigating the visual landscape, as well as the principles through which to create it." (Douglas Rushkoff, Author,' Program or Be Programmed')
"This innovative collection of analyses builds a badly needed bridge between solid visual communication research about legacy media and emerging scholarship about Web-based media." (Julianne Newton, Professor of Visual Communication in the School of Journalism and Communication at the University of Oregon; Co-author of 'Visual Communication: Integrating Media, Art, and Science')
"In the twenty-first century, visualization is the next big thing, and it is transforming how we understand everything - from storytelling, to bodies, to science, to information itself. The principles of visual communication too are in a constant state of flux as they try to catch up with these evolving information spaces all around us. This timely book explores the origins and history of the field, crystallizes the current moment in visual design and Web aesthetics, and gives would-be architects sound principles upon which to build their own structures." (Carolyn Guertin, Assistant Professor of Digital Media and Director of the eCreate Lab at the University of Texas at Arlington;
Faculty member at Transart Institute in Berlin)