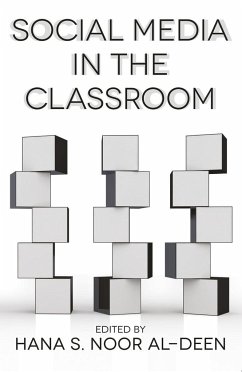 Produktdetails
Verlag: Peter Lang, Pieterlen
Artikelnr. des Verlages: .312904, 312904
Erscheinungstermin: 17. Juni 2016
Englisch
Abmessung: 226mm x 151mm x 21mm
Gewicht: 370g
ISBN-13: 9781433129049
ISBN-10: 1433129043
Artikelnr.: 44164896
Contents: Stanley J. Baran: Foreword - Preface - Acknowledgments - Applying Social Media in Teaching Advertising - Gwyneth Howell/Rohan Miller: Digitally Driving Student Engagement to Improve Pedagogical Outcomes - Regina Lewis/Brandi Watkins: Connectivism and the Classroom: Translating Theory into Teaching - Holly Kathleen Hall/Mary Jackson Pitts: Being Your Own Chief Marketing Officer: Student Perceptions of Personal Branding - Hana S. Noor Al-Deen: Social Media and Applied Learning - Applying Social Media in Teaching Public Relations - Kathleen Stansberry: Taming the Social Media Data Deluge: Using Social Media Research Methods in the Public Relations Classroom - Melissa L. Janoske/Rowena L. Briones/Julia Daisy Fraustino: Drop and Give Me 20 (Social Media Platforms): Using Boot Camp to Teach Social Media Strategy - Beth L. Sundstrom/Abbey Blake Levenshus: The Art of Tweeting: Integrating Primary Social Media Research into a Public Relations Writing Course - Melissa D. Dodd/Thibault Adda: New Technologies for Social Media and Public Relations Education - Applying Social Media in Teaching Journalism - David Baines/Melissa Wall: Challenging the Newsroom Paradigm: Four Nations' Journalism Students Interrogate Global Issues Through Social Media - Leigh Landini Wright: Storytelling 2.0: Using Social Media Tools to Craft Multimedia Stories - K. Hazel Kwon: Using Network Analytic Tools to Teach Social Media Impact on Citizen Journalism - Melony Shemberger: Going on a News Consumption Diet: Engaging Students in Meaningful Current Events Discussions Through Social Media.
"Hana S. Noor Al-Deen's Social Media in the Classroom provides a groundbreaking contribution to the journalism and mass communication literature. This edited volume delivers an essential framework for understanding how to integrate social media into teaching and learning." (John V. Pavlik, PhD, Professor, Journalism and Media Studies, Rutgers, the State University of New Jersey)
"This volume is an extremely important and highly compelling contribution to the academic literature addressing new media. It offers theoretically-focused and research-driven best practices for educators in advertising, public relations, journalism, and business communications. The valuable techniques articulated in this work will enhance student learning and engagement while providing students with essential career-ready skills in social media strategies and tactics." (Thomas Skill, PhD, Associate Provost, Chief Information Officer, and Professor of Communication, University of Dayton)