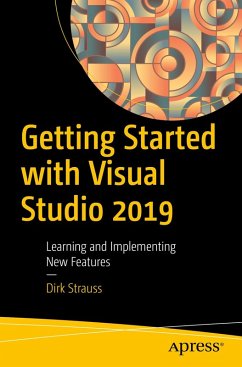 Andere Kunden interessierten sich
auch
für
Getting Started with Visual Studio 2019 begins with an overview of Visual Studio and explores new features such as Visual Studio Live Share, Visual Studio Search, Solution Filters, and Intellicode. Author Dirk Strauss teaches you how to create project templates, write code snippets, and manage NuGet packages. You will learn how to: debug your code using breakpoints and step into specific methods, use data tips, and utilize the DebuggerDisplay attribute. You will then move on to learn unit testing and explore the tools provided by Visual Studio to create and run unit tests. The book also covers source control integration in Visual Studio and how to use GitHub to implement a source control strategy in your code.
What You Will Learn
Create and use code snippets in Visual Studio 2019
Utilize diagnostic tools and the Immediate window for code debugging
Generate unit tests with IntelliTest
Use NuGet in applications
Create and handle pull requests
Who This Book Is For
Beginners and software developers working on the .NET stack
---
Dieser Download kann aus rechtlichen Gründen nur mit Rechnungsadresse in A, B, BG, CY, CZ, D, DK, EW, E, FIN, F, GR, HR, H, IRL, I, LT, L, LR, M, NL, PL, P, R, S, SLO, SK ausgeliefert werden.
Produktdetails
Verlag: Springer-Verlag GmbH
Seitenzahl: 267
Erscheinungstermin: 27. November 2019
Englisch
ISBN-13: 9781484254493
Artikelnr.: 58432583
Chapter 1: Getting To Know Visual Studio 2019

Chapter Goal: To familiarize the reader with Visual Studio features (especially if the reader is new to Visual Studio) and to highlight the new features in Visual Studio 2019.

No of pages 40

Sub -Topics

1. Installing Visual Studio and using Workloads

2. The solution explorer, toolbox and properties

3. The code editor, navigation code, various helper windows (command, immediate, error list etc.)

4. Features and productivity tips in Visual Studio such as code fixes and refactoring

5. New features in Visual Studio 2019 such as IntelliCode, Visual Studio Live Share, Solution Filters etc.

Chapter 2: Working with Visual Studio 2019

Chapter Goal: To introduce the reader with what is available in Visual Studio from an application creation perspective.

No of pages: 30

Sub - Topics

1. Various project types available in Visual Studio and when to use them

2. Manage NuGet packages

3. Creating Project Templates

4. Creating and using code snippets in Visual Studio

5. Using bookmarks and code shortcuts

6. Server Explorer Window

Chapter 3: Debugging your code

Chapter Goal: Explain the concept of debugging code and highlight how Visual Studio can assist developers in effectively finding bugs and fixing problems.

No of pages : 30

Sub - Topics:

1. Using breakpoints, conditional breakpoints, breakpoint actions and labels and exporting breakpoints

2. Making use of data tips in debugging

3. The DebuggerDisplay attribute

4. Diagnostic tools and Immediate window

5. Attaching to a running process

Chapter 4: Unit testing

Chapter Goal: This chapter will introduce the reader to unit testing and the tools Visual Studio provides to accomplish unit tests.

No of pages: 25

Sub - Topics:

1. Creating and Running Unit tests

2. Using Live Unit Tests

3. Using IntelliTest to generate unit tests

4. Determine code coverage in Visual Studio

Chapter 5: Source control

Chapter Goal: This chapter will introduce the reader to the source control integration inside of Visual Studio. The reader will understand how to use GitHub to implement a source control strategy for their code.

No of pages: 30

1. What is GitHub and creating an account

2. Create and clone a repository

3. Committing your changes

4. Create branches from your code

5. Creating and handling pull requests


Es gelten unsere Allgemeinen Geschäftsbedingungen: www.buecher.de/agb
Impressum
www.buecher.de ist ein Shop der
buecher.de GmbH & Co. KG
Bürgermeister-Wegele-Str. 12,
86167 Augsburg
Amtsgericht Augsburg HRA 13309
Persönlich haftender Gesellschafter: buecher.de Verwaltungs GmbH
Amtsgericht Augsburg HRB 16890

Vertretungsberechtigte:
Günter Hilger, Geschäftsführer
Clemens Todd, Geschäftsführer

Sitz der Gesellschaft:Augsburg
Ust-IdNr. DE 204210010
---
Bitte wählen Sie Ihr Anliegen aus.