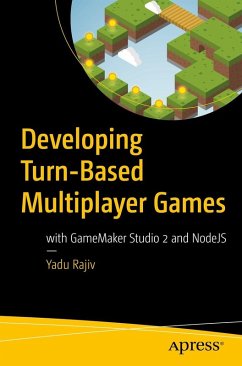 Geräte: PC

ohne Kopierschutz

Größe: 2.59MB
Andere Kunden interessierten sich
auch
für
Create your first turn-based multiplayer game using GameMaker Studio 2's built-in networking functions as well as using a simple NodeJS server. This book introduces you to the complexities of network programming and communication, where the focus will be on building the game from the ground up.
You will start with a brief introduction to GameMaker Studio 2 and GML coding before diving into the essential principles of game design.
Following this, you will go through an introductory section on NodeJS where you will learn how to create a server and send and receive data from it as well as integrating it with GameMaker Studio. You will then apply multiplayer gaming logic to your server and unlock multiplayer game features such as locating a player, syncing their data, and recording their session.
What You Will Learn
Discover the architecture of GameMaker Studio 2

Add new features to your game with NodeJS modules

Integrate GameMaker Studio 2 with NodeJS
Master GameMaker Studio 2's built-in networking functions
Who This Book Is For
GameMaker Studio users who want to understand how the networking components of GMS 2 work. Basic JavaScript knowledge is required.
---
Dieser Download kann aus rechtlichen Gründen nur mit Rechnungsadresse in A, B, BG, CY, CZ, D, DK, EW, E, FIN, F, GR, HR, H, IRL, I, LT, L, LR, M, NL, PL, P, R, S, SLO, SK ausgeliefert werden.
Es gelten unsere Allgemeinen Geschäftsbedingungen: www.buecher.de/agb
Impressum
www.buecher.de ist ein Shop der
buecher.de GmbH & Co. KG
Bürgermeister-Wegele-Str. 12,
86167 Augsburg
Amtsgericht Augsburg HRA 13309
Persönlich haftender Gesellschafter: buecher.de Verwaltungs GmbH
Amtsgericht Augsburg HRB 16890

Vertretungsberechtigte:
Günter Hilger, Geschäftsführer
Clemens Todd, Geschäftsführer

Sitz der Gesellschaft:Augsburg
Ust-IdNr. DE 204210010
---
Bitte wählen Sie Ihr Anliegen aus.