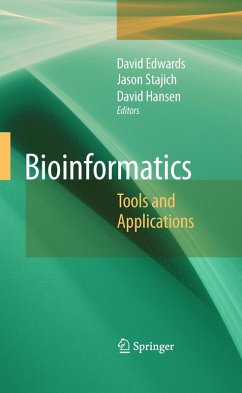 Andere Kunden interessierten sich
auch
für


The volume is intended for graduate-level biology students as well as researchers who wish to gain a better understanding of applied bioinformatics and who wish to use bioinformatics technologies to assist in their research. The volume would also be of value to bioinformatics developers, particularly those from a computing background, who would like to understand the application of computational tools for biological research. Each chapter would include a comprehensive introduction giving an overview of the fundamentals, aimed at introducing graduate students and researchers from diverse backgrounds to the field and bring them up-to-date on the current state of knowledge. To accommodate the broad range of topics in applied bioinformatics, chapters have been grouped into themes: gene and genome analysis, molecular genetic analysis, gene expression analysis, protein and proteome analysis, metabolome analysis, phenome data analysis, literature mining and bioinformatics tool development. Each chapter and theme provides an introduction to the biology behind the data describes the requirements for data processing and details some of the methods applied to the data to enhance biological understanding.

Produktdetails
Verlag: Springer, Berlin
Artikelnr. des Verlages: 12102105
1. Auflage
Erscheinungstermin: Oktober 2010
Englisch
Abmessung: 241mm x 160mm x 33mm
Gewicht: 950g
ISBN-13: 9780387927374
ISBN-10: 0387927379
Artikelnr.: 25532087
DNA Sequence Databases.- Sequence Comparison Tools.- Genome Browsers.- Predicting Non-coding RNA Transcripts.- Gene Prediction Methods.- Gene Annotation Methods.- Regulatory Motif Analysis.- Molecular Marker Discovery and Genetic Map Visualisation.- Sequence Based Gene Expression Analysis.- Protein Sequence Databases.- Protein Structure Prediction.- Classification of Information About Proteins.- High-Throughput Plant Phenotyping - Data Acquisition, Transformation, and Analysis.- Phenome Analysis of Microorganisms.- Standards for Functional Genomics.- Literature Databases.- Advanced Literature-Mining Tools.- Data and Databases.- Programming Languages.
From the reviews:

"This edited collection of articles will be a valuable addition to the aspiring computational biologist's bookshelf, covering a variety of traditional and advanced tools and methods for analyzing and storing biological data using computers. ... the plethora of references following each chapter will prove highly valuable. ... this collection of papers is very informative and helpful, both at an instructional and applied level, for beginners and advanced practitioners ... . Summing Up: Highly recommended. Upper-division undergraduate through professional collections." (D. Papamichail, Choice, Vol. 47 (10), June, 2010)

"This edited volume provides a systematic overview of the increasingly mature field of bioinformatics. ... The authors intend the volume both for biologists and computer scientists who are interested in learning more about the field. ... overall I think the book will achieve its aim of being a useful resource to both audiences, and would be an excellent choice for an advanced graduate course or reading group." (Todd Vision, The Quarterly Review of Biology, Vol. 85 (3), September, 2010)