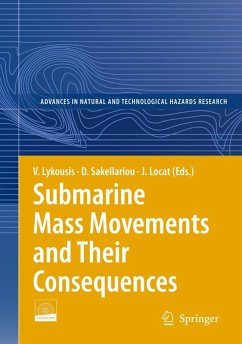 Andere Kunden interessierten sich
auch
für

Audience
This book is of interest to any researcher in the field of marine and coastal geo-hazards. It will be useful for planners, scientists and engineers involved in the development of offshore and near-shore resources and also to those in charge of the management and mitigation of coastal hazards. For graduate students, this book provides an up-to-date vision of the process of submarine mass movements and their consequences from both a scientific and an engineering standpoint, and it includes a unique collection of the existing literature on marine geo-hazards.
Produktdetails
Advances in Natural and Technological Hazards Research 27
Verlag: Springer / Springer Netherlands
Artikelnr. des Verlages: 12080243, 978-1-4020-6511-8
Erscheinungstermin: 21. September 2007
Englisch
Abmessung: 241mm x 160mm x 28mm
Gewicht: 822g
ISBN-13: 9781402065118
ISBN-10: 1402065116
Artikelnr.: 22988753
Role of submarine slides in margin development.- Fractal statistics of the Storegga Slide.- Submarine Paleo-Failure Morphology On A Glaciated Continental Margin From 3d Seismic Data.- Slope Instability And Mass Transport Deposits On The Godavari River Delta, East Indian Margin From A Regional Geological Perspective.- Repeated Instability Of The Nw African Margin Related To Buried Landslide Scarps.- Along Slope Variations In Mass Failures And Relationships To Major Plio-Pleistocene Morphological Elements, Sw Labrador Sea.- Submarine Landslides Along The North Ecuador - South Colombia Convergent Margin: Possible Tectonic Control.- The Southern Flank Of The Storegga Slide: Imaging And Geomorphological Analyses Using 3d Seismic.- Submarine Mass Movements On An Active Fault System In The Central Gulf Of Corinth.- Analysis Of Multibeam Seafloor Imagery Of The Laurentian Fan And The 1929 Grand Banks Landslide Area.- Landslide And Gravity Flow Features And Processes Of The Nazaré And Setúbal Canyons, West Iberian Margin.- Mass waste evolution: From slump to distal turbidites.- Experimental Studies Of Subaqueous Vs. Subaerial Debris Flows - Velocity Characteristics As A function Of The Ambient Fluid.- The General Behavior Of Mass Gravity Flows In The Marine Environment.- Submarine Spreading: Dynamics And Development.- Flood-Induced Turbidites From Northern Hudson Bay And Western Hudson Strait: A Two-Pulse Record Of Lake Agassiz Final Outburst Flood?.- Underwater Rockfall Kinematics: A Preliminary Analysis.- Anthropogenic Turbidity Current Deposits In A Seismically Active Graben, The Gulf Of Corinth, Greece: A Useful Tool For Studying Turbidity Current Transport Processes.- New techniques, approaches and challenges in submarine slope instability analysis.- Probability Study On Submarine Slope Stability.- Marine Deep-Water Free-Fall Cpt Measurements For Landslide Characterisation Off Crete, Greece (Eastern Mediterranean Sea) Part 1: A New 4000M Cone Penetrometer.- Monitoring stress on submarine slopes and sediment physical properties.- Linking Geotechnical And Rheological Properties From Failure To Post-Failure: The Pointe-Du-Fort Slide, Saguenay Fjord, Québec.- Rheological Properties Of Fine-Grained Sediments In Modeling Submarine Mass Movements: The Role Of Texture.- Marine Deep-Water Free-Fall Cpt Measurements For Landslide Characterisation Off Crete, Greece (Eastern Mediterranean Sea) Part 2: Initial Data From The Western Cretan Sea.- Recursive Failure Of The Gulf Of Mexico Continental Slope: Timing And Causes.- Geotechnical Considerations Of Submarine Canyon Formation: The Case Of Cap De Creus Canyon.- Submarine slides in coastal areas, semienclosed seas (fjords,estuaries, gulfs) and lakes.- Submarine Mass Movements In The Betsiamites Area, Lower St. Lawrence Estuary, Québec, Canada.- Submerged Landslide Morphologies In The Albano Lake (Rome, Italy).- Dynamics Of The Deltaic Canyon Area Of The Rv. Chorokhi, Georgia.- The 1990 Submarine Slide Outside The Nidelv River Mouth, Trondheim, Norway.- Submarine Slope Failures Near Seward, Alaska, During The M9.2 1964 Earthquake.- The Ad 1881 Earthquake-Triggered Slump And Late Holocene Flood-Induced Turbidites From Proglacial Lake Bramant, Western French Alps.- Morphosedimentology Of Submarine Mass-Movements And Gravity Flows Offshore Sept-Îles, Nw Gulf Of St. Lawrence (Québec, Canada).- Sediment Failure Processes In Active Grabens: The Western Gulf Of Corinth (Greece).- Submarine landslides in volcanic island settings.- High Frequency Sediment Failures In A Submarine Volcanic Environment: The Santorini (Thera) Basin In The Aegean Sea.- Sediment Stability Conditions West Of Milos Island, West Hellenic Volcanic Arc.- Submarine mass movements and tsunamis.- Mass Wasting Processes - Offshore Sumatra.- Slope Failures Of The Flanks Of The Southern Cape Verde Islands.- Triggering Factors And Tsunamigenic Potential Of A Large Submarine Mass Failure On The Western Nile Margin (Rosetta Area, Egypt).- Reassessment Of Seismically Induced, Tsunamigenic Submarine Slope Failures In Port Valdez, Alaska, USA.- Towards The Mitigation Of The Tsunami Risk By Submarine Mass Failures In The Gulf Of Corinth: The Xylocastro Resort Town Case Study.- Probabilistic Smf Tsunami Hazard Assessment For The Upper East Coast Of The United States.- Role Of Soil Behavior On The Initial Kinematics Of Tsunamigenic Slides.- Revisiting Submarine Mass Movements Along The U.S. Atlantic Continental Margin: Implications For Tsunami Hazards.- Tsunamigenic Landslides In The Western Corinth Gulf: Numerical Scenarios.- Tsunamis Generated By Coastal And Submarine Landslides In The Mediterranean Sea.