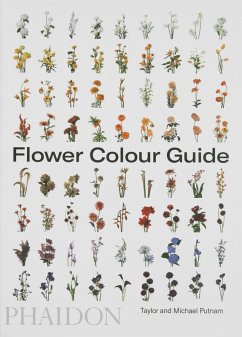 Andere Kunden interessierten sich
auch
für
The ultimate colour-by-colour flower reference guide - from New York's pre-eminent floral designers, Putnam and Putnam

Planning a wedding, a dinner, a birthday party, a romantic evening, holiday entertaining, or just arranging flowers for the pleasure of having them, more often than not your creative process begins with thinking about the colour of the flowers that you want. To help you find what you are looking for, Flower Colour Guide is the first reference book to organize flower types by colour, with an emphasis on seasonality and creative colour schemes - and the results are stunning in their sheer variety. What Pantone is to colour, Flower Colour Guide is to flowers.

Showcasing 400 flowers at their peak, with stunning photography taken by Putnam & Putnam in their Brooklyn studio, this guide includes an appendix featuring perforated pages, with tips on flower care, notes on how to prepare vessels and a list of suggested colour schemes. A great gift to give, or to have for oneself, the book speaks to the most seasoned flower enthusiasts as well as those just beginning to explore the possibilities of arranging flowers.

Michael and Darroch Putnam have built a reputation for romantic, dramatic floral arrangements and installations using colour as their guiding principle - here, they share their knowledge with readers worldwide: "This is the book we wished we had when we started doing flowers."


Produktdetails
Verlag: Phaidon, Berlin
Seitenzahl: 484
Erscheinungstermin: 1. Oktober 2018
Englisch
Abmessung: 177mm x 129mm x 35mm
Gewicht: 750g
ISBN-13: 9780714878300
ISBN-10: 0714878308
Artikelnr.: 52536412
"Like a Pantone guide for flowers, this glorious book is a survey of 400 plants and their colours."-
Bloom
"A simple, delightful book that consists solely of page after page of flower photos arranged by color, from a crisply white azalea to a stunning purple-black calla lily. It's the highly-organized (or obsessive-compulsive) garden lover's dream."-
Garden & Gun Online
"An endearing and comprehensive flower guide organized by colour. Four hundred flowers photographed at their peak look resplendent on the page. Alongside the gorgeous photographs, they also note every bloomer's common and botanical name, seasonal availability and most coveted position in a flower arrangement... A useful guide for flower enthusiasts, especially those who struggle to achieve an even half-perfect flower arrangement."-
The Lady
"
Flower Color Guide
is different... Browsing through it feels joyful and clean, like walking into a well-appointed house... You'll want to keep on browsing through the pages."-
Artsy
"Lush new book
Flower Colour Guide
, by New York florists Darroch and Michael Putnam, shows off 400 flowers alongside suggested colour schemes and care guides. It's the perfect source for planning next year's garden revamp."-
The Guardian, Weekend magazine
"Let your inner artist bloom with tips from the brilliant New York City floral-arranging duo Putnam & Putnam: in
Flower Color

Guide
, Darroch and Michael Putnam teach how to create stunning bouquets by color, from white azaleas to 'Black Star' calla lilies."-
Martha Stewart Living
"This is the Pantone book of flowers."-
New York Post
"This helpful handbook can guide you toward in-season flowers within your chosen color scheme."-
Real Simple
"[A] ridiculously enjoyable pint-sized book full of blooms familiar and exotic, all arranged by hue."-
House Beautiful
"The first reference book to organise flower types by colour... New York floristry gurus Michael and Darroch Putnam put the emphasis firmly on creating beautiful, colourful arrangements... The ultimate reference book for all budding florists."-
Wildflower Magazine
"Showcases 400 flowers in a variety of wonderful hues with an emphasis on creative colour schemes... A practical resource for anyone who would like to explore flower types or experiment with new colour combinations."-
The Flower Arranger
"Emphasizes seasonality and creative color schemes, with results that are stunning in their sheer variety... A great gift to give, or to have for oneself, the book speaks to the most seasoned flower enthusiasts, as well as those just beginning to explore the possibilities of arranging flowers."-
Florida Times-Union
"Stunning."-
Flower Magazine
"Nature's palette... Full-page images reminiscent of botanical illustrations range from crisp white azaleas to the purple black calla lily."-
Viewpoint Colour Magazine
"Famous florists Putnam & Putnam made us fall in love with cut flowers again. Their artistic arrangements are not at all simple to pull off, but the duo's first book, which features the best floral varieties in every color of the rainbow, is a good place to start!"-
Architectural Digest Online
"If you like to host events-or just have an interest in flowers - the
Flower Color Guide
will help you select your arrangements carefully. The book features 400 blooms that are represented through stunning photography. Each image shows the flower at its peak so that you can marvel (and plan) accordingly."-
My Modern Met
"An encyclopaedic book of 400 flowers organized by color, which will brighten up [a] coffee table for much longer than a bouquet."-
Architectural Digest Online