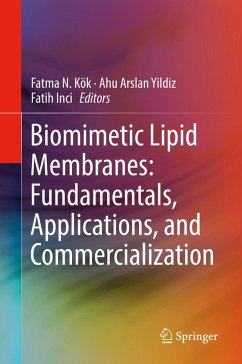 Andere Kunden interessierten sich
auch
für
Provides fundamental knowledge on biomimetic lipid membranes;
Addresses some of biomimetic membrane types, preparation methods, properties and characterization techniques;
Explains state-of-art technological developments that incorporate microfluidic systems, array technologies, lab-on-a-chip-tools, biosensing, and bioprinting techniques;
Describes the integration of biomimetic membranes with current top-notch tools and platforms;
Examines applications in medicine, pharmaceutical industry, and environmental monitoring.
---
Dieser Download kann aus rechtlichen Gründen nur mit Rechnungsadresse in A, B, BG, CY, CZ, D, DK, EW, E, FIN, F, GB, GR, HR, H, IRL, I, LT, L, LR, M, NL, PL, P, R, S, SLO, SK ausgeliefert werden.
Produktdetails
Verlag: Springer-Verlag GmbH
Erscheinungstermin: 16.04.2019
Englisch
ISBN-13: 9783030115968
Artikelnr.: 56347515
Chapter1: Structural and mechanical characterization of supported model membranes by AFM.- Chapter2: To image the orientation and spatial distribution of reconstituted Na+,K+-ATPase in model lipid membranes.- Chapter3: Asymmetric Model Membranes: Frontiers and Challenges.- Chapter4: Modelling of Cell Membrane Systems.- Chapter5: Molecular Dynamics Studies of Nanoparticle Transport Through Model Lipid Membranes.- Chapter6: Investigation of Cell Interactions on Biomimetic Lipid Membranes.- Chapter7: Tethered lipid membranes as platforms for biophysical studies and advanced biosensors.- Chapter8: Biomedical Applications: Liposomes and Supported Lipid Bilayers for Diagnostics, Theranostics, Imaging, Vaccine Formulation, and Tissue Engineering.- Chapter9: Lipid Bilayers and Liposomes on Microfluidics Realm: Techniques and Applications.- Chapter10: Biomimetic Model Membranes as Drug Screening Platforms.- Chapter11: Biomimetic Membranes as an Emerging Water Filtration Technology.- Chapter12: Applications of lipid membranes based biosensors for the rapid detection of food toxicants and environmental pollutants.