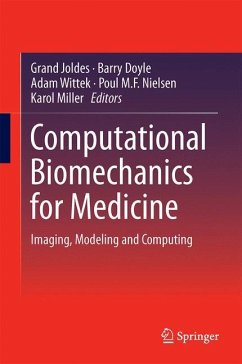 Produktdetails
Artikelnr. des Verlages: .978-3-319-28327-2, 978-3-319-28327-2
1st ed. 2016
Erscheinungstermin: 5. Juli 2016
Englisch
Abmessung: 243mm x 164mm x 20mm
Gewicht: 502g
ISBN-13: 9783319283272
ISBN-10: 3319283278
Artikelnr.: 44168359
Part I: Biomechanics of Solids.- Computer Assisted Planning of Periacetabular Osteotomy with Biomechanical Optimization: Constant Thickness Cartilage Models vs. Patient-specific Cartilage Models.- Role of Ligaments in the Knee Joint Kinematic Behavior: Development and Validation of a Finite Element model.- Challenges to Validate Multi-physics Model of Liver Tumor Radiofrequency Ablation from Pre-clinical Data.- Robust Landmark Identification for Generating Subject Specific Models for Biomechanics.- Forward Problem of Time-Resolved Diffuse Optical Tomography Considering Biological Tissue Deformation.- Mechanical Models of Endothelial Mechanotransmission Based on a Population of Cells.- Investigation of Modelling Parameters for Finite Element Analysis of MR Elastography.- Fuzzy Tissue Classification for Non-linear Patient-Specific Biomechanical Models for Whole-Body Image Registration.- GPU-Based Fast Finite Element Solution for Nonlinear Anisotropic Material Behavior And Comparison of Integration Strategies.- Fast Prediction of Femoral Biomechanics Using Supervised Machine Learning and Statistical Shape Modeling.- Some Use Cases for Composite Finite Elements in Image Based Computing.- Part II: Vascular System and the Brain.- Computational Simulation of Blood Flow and Drug Transportation in a Large Vasculature.- Fundus Image Based Blood Flow Simulation of the Retinal Arteries.- Integration of an Electrophysiologically-Driven Heart Model into Three-Dimensional Haemodynamics Simulation using the CRIMSON Control Systems Framework.- Simulating Patient Specific Multiple Time-point MRIs from a Biophysical Model of Brain Deformation in Alzheimer's Disease.- Traumatic Brain Injury - an Investigation into Shear Waves Interference Effects.- Modeling of Bifurcated Tubular Structures for Vessel Segmentation.- Modelling the Presence of Diffuse Axonal Injury in Primary Phase Blast-Induced Traumatic Brain Injury.