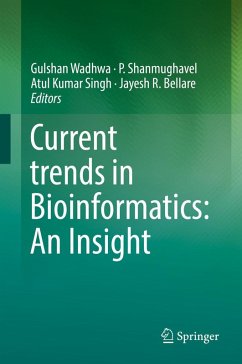 Andere Kunden interessierten sich
auch
für


Written by respected leaders in the field and covering a wide range of topics involving the integration of biology with computer and information science, the book offers an ideal basis for teaching at the undergraduate and graduate levels. It can also be used for self-instruction by research investigators interested in applying bioinformatics-based analytical methods and information technologists working with academic and industrial laboratories.


Produktdetails
Artikelnr. des Verlages: 978-981-10-7481-3
1st ed. 2018
Erscheinungstermin: 20. Juli 2018
Englisch
Abmessung: 244mm x 161mm x 22mm
Gewicht: 718g
ISBN-13: 9789811074813
ISBN-10: 981107481X
Artikelnr.: 49625156
Part 1. Overview.- Chapter 1. An Insight of Biological Databases used in Bioinformatics.- Chapter 2- Bioinformatics in Next-Generation Genome Sequencing.- Chapter 3. The Role of Bioinformatics in Epigenetics.- Chapter 4. Three dimensional structures of carbohydrates and glycoinformatics - An Overview.- Chapter 5. Epigenome: The guide to Genomic Expression.- Part 2. Bioinformatics Approaches.- Chapter 6. Molecular Modeling and Drug Design: A Contemporary Analysis in Vibrio cholera .- Chapter 7. Modelling Polyketide Synthases and Similar Macromolecular Complexes.- Chapter 8. In silico Studies on Colon Cancer.- Chapter 9. Tools, Databases and Applications of Immunoinformatics.- Chapter 10. Metabolic Pathway Analysis Employing Bioinformatics Software.- Chapter 11. The Interactomics of the RNA Induced Silencing Complex.- Chapter 12. Computational Tools: RNA Interference in Fungal Therapeutics.- Chapter 13. Genome Wide Essential Gene Identification in Pathogens.- Chapter 14. Disease Informatics.- Chapter 15- Development in Malaria and Anemia Screening: Medical Imaging Informatics Approach.- Chapter 16. Role of Bioinformatics in Drug-Resistance Prediction forHIV/AIDS.- Chapter 17. Bioinformatics approaches for animal breeding and genetics.- Chapter 18. -Amylase Inhibitor's performancein the Control of Diabetes Mellitus: Anapplication of computational Biology.