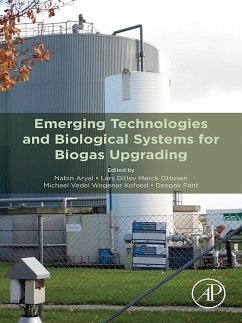 Geräte: eReader

ohne Kopierschutz

Größe: 22.49MB
Emerging Technologies and Biological Systems for Biogas Upgrading
systematically summarizes the fundamental principles and the state-of-the-art of biogas cleaning and upgrading technologies, with special emphasis on biological processes for carbon dioxide (CO2), hydrogen sulfide (H2S), siloxane, and hydrocarbon removal. After analyzing the global scenario of biogas production, upgrading and utilization, this book discusses the integration of methanation processes to power-to-gas systems for methane (CH4) production and physiochemical upgrading technologies, such as chemical absorption, water scrubbing, pressure swing adsorption and the use of membranes. It then explores more recent and sustainable upgrading technologies, such as photosynthetic processes using algae, hydrogen-mediated microbial techniques, electrochemical, bioelectrochemical, and cryogenic approaches. H2S removal with biofilters is also covered, as well as removal of siloxanes through polymerization, peroxidation, biological degradation and gas-liquid absorption. The authors also thoroughly consider issues of mass transfer limitation in biomethanation from waste gas, biogas upgrading and life cycle assessment of upgrading technologies, techno-economic aspects, challenges for upscaling, and future trends.
Providing specific information on biogas upgrading technology, and focusing on the most recent developments,
Emerging Technologies and Biological Systems for Biogas Upgrading
is a unique resource for researchers, engineers, and graduate students in the field of biogas production and utilization, including waste-to-energy and power-to-gas. It is also useful for entrepreneurs, consultants, and decision-makers in governmental agencies in the fields of sustainable energy, environmental protection, greenhouse gas emissions and climate change, and strategic planning.
Explores all major technologies for biogas upgrading through physiochemical, biological, and electrochemical processes
Discusses CO2, H2S, and siloxane removal techniques
Provides a systematical approach to discuss technologies, including challenges to gas-liquid mass transfer, life cycle assessment, technoeconomic implications, upscaling and systems integration

---

Dieser Download kann aus rechtlichen Gründen nur mit Rechnungsadresse in A, B, BG, CY, CZ, D, DK, EW, E, FIN, F, GR, HR, H, IRL, I, LT, L, LR, M, NL, PL, P, R, S, SLO, SK ausgeliefert werden.