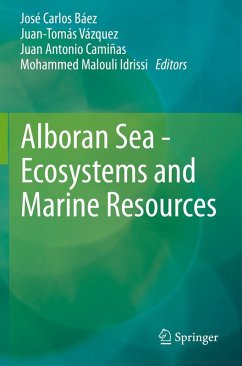 Andere Kunden interessierten sich
auch
für


An important first step to update a paramount vision on this region is to understand the climatic, geologic and oceanographic, including biochemical cycles, process which shapes the rich geodiversity, biodiversity, the productivity, and the sustainable use of the marine resources from Alboran Sea.

The fisheries management system should take into account marine environmental variability to achieve biological sustainability of marine resources. Well-funded policy-makers' decisions require a sound science based knowledge of the interaction between the marine environment and commercial stocks. This is because the role of marine environment in the evolution of fish stocks is sometimes even more important than the one played by fishers in the commercial exploitation of them. Finally, we should analyze the different aspects of political context that could affect the management of the resources from Alboran Sea in the context of climate change.

This book reviews different aspects of the Alboran Sea to help understand the current situation from the original Tethis Ocean.

The book is divided into four blocks: (i) Oceanographic, geological and ecological context (chapters 2 to 7), (ii) biodiversity and ecosystems distribution (chapters 8 to 12), (iii) fisheries resources and aquaculture (chapters 13 to 20), and (iv) conservation, management and marine polices (chapters 21 to 25).