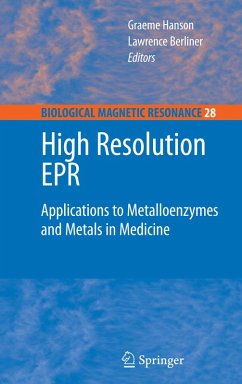 Geräte: PC

ohne Kopierschutz

Größe: 25.06MB
Andere Kunden interessierten sich
auch
für
This volume was conceived in 2005 at the Rocky Mountain Conference on Analytical Chemistry (EPR Symposium) to highlight the importance of high-resolution EPR spectroscopy to the structural (geometric and electronic) characterization of redox active cofactors in metalloproteins. We have been fortunate to have enlisted internationally recognized experts in this joint venture to provide the scientific community with an overview of high-resolution EPR and its application to metals in biology. This volume, High-Resolution EPR: Applications to Metalloenzymes and Metals in Medicine, covers high-resolution EPR methods, iron proteins, nickel and copper enzymes, and metals in medicine. An eloquent synopsis of each chapter is provided by John Pilbrow in the Introduction. A second volume, Metals in Biology: Applications of High-Resolution EPR to Metalloenzymes, will appear later this year covering the complement of other metalloproteins.
One of the pioneers in the development of pulsed EPR and its application to metalloproteins was Arthur Schweiger, whose contribution we include in this volume. Unfortunately, he passed away suddenly during the preparation of this volume. The editors and coauthors are extremely honored to dedicate this volume to the memory of Arthur Schweiger in recognition of his technical advances and insights into pulsed EPR and its application to metalloproteins. Arthur was extremely humble and treated everyone with equal respect. He was a gifted educator with an ability to explain complex phenomena in terms of simple intuitive pictures, had a delightful personality, and continues to be sadly missed by the community.
It is an honor for the editors to facilitate the dissemination of these excellent contributions to the scientific community. Suggestions for future volumes are always appreciated.
---
Dieser Download kann aus rechtlichen Gründen nur mit Rechnungsadresse in A, B, BG, CY, CZ, D, DK, EW, E, FIN, F, GR, HR, H, IRL, I, LT, L, LR, M, NL, PL, P, R, S, SLO, SK ausgeliefert werden.