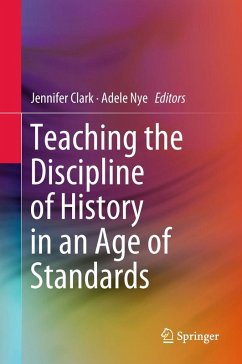 Andere Kunden interessierten sich
auch
für


Although the book focuses on the discipline of history in Australia, other subjects and other countries are facing the same dilemmas. As such, it includes chapters that address the international context and bring an international perspective to the engagement with discipline standards. The innovation and leadership of this scholarly community represents a new stage in the transformation and renewal of history teaching.


Produktdetails
Verlag: Springer / Springer, Berlin
Artikelnr. des Verlages: 978-981-13-0046-2
1st ed. 2018
Seitenzahl: 348
Erscheinungstermin: 20. Juni 2018
Englisch
Abmessung: 241mm x 160mm x 24mm
Gewicht: 686g
ISBN-13: 9789811300462
ISBN-10: 9811300461
Artikelnr.: 51849398
Chapter 1. The Three Contexts of Writing about History Teaching.-
Part I: Issues in Contemporary History Pedagogy in a Standards Environment.-
Chapter 2. Snapshot: The Discipline of History in British and Australian Universities.-
Chapter 3. Passion: The place of passion in history teaching in a standards environment.-
Chapter 4. First Year: Teaching the History TLOs to First Year Students.-
Chapter 5. Delivery: Relics of the Past? Rethinking the History Lecture and Tutorial.-
Chapter 6. Progression: Principles and practice.-
Chapter 7. Compliance: Built to fail, negotiating the compliance paradox.-
Chapter 8. In the Shadow of Bologna: Teaching and Learning Outcomes in the United States and Europe.-
Chapter 9. Leadership: Enabling Leadership in the Teaching and Learning of History in Higher Education.-
Part II: Unpacking the Threshold Learning Outcomes.-
Chapter 10. TLO 1: Demonstrate an understanding of at least one period or culture of the past.-
Chapter11. TLO 2: Demonstrate an understanding of a variety of conceptual approaches to interpreting the past.-
Chapter 12. TLO 3: How historians influence the present and future.-
Chapter 13. TLO 4: Identify and interpret a wide variety of secondary and primary sources.-
Chapter 14. TLO 5: Examine historical issues by undertaking research according to the methodological and ethical conventions of the discipline.-
Chapter 15. TLO 6: Examine historical evidence, scholarship and changing representations of the past.-
Chapter 16. TLO 7: Construct an evidence-based argument or narrative in audio, digital, oral, visual or written form.-
Chapter 17. TLO 8: Identify and reflect critically on the knowledge and skills developed in the study of history.