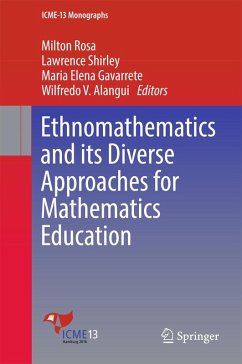 Andere Kunden interessierten sich
auch
für


Ethnomathematics offers educators a valuable framework for transforming mathematics so that it can more actively contribute to realizing the dream of a just and humane society. As such, its primary goal is to forge mathematics into a powerful tool to help people create a society characterized by dignity for all, and in which iniquity, arrogance, violence, and bigotry have no place.


Produktdetails
ICME-13 Monographs
Verlag: Springer / Springer, Berlin
Artikelnr. des Verlages: 978-3-319-59219-0
1st ed. 2017
Seitenzahl: 376
Erscheinungstermin: 3. August 2017
Englisch
Abmessung: 241mm x 160mm x 26mm
Gewicht: 756g
ISBN-13: 9783319592190
ISBN-10: 331959219X
Artikelnr.: 48076661
Introduction.- Chapter 1 - An Ethnomathematics Overview: An Introduction.- Part I - Research Approaches on Ethnomathematics: Collection of Field Data.- Chapter 2 - Weaving Culture and Mathematics in the Classroom: The Case of Bedouin Ethnomathematics.- Chapter 3 - Listening to the Voices of the Knowledge Holders: The Role of Language in Ethnomathematical Research .- Chapter 4 - Techniques and Learning Process of Craftswomen in Brazil.- Part II - Pedagogical Action of Ethnomathematics: Classroom Applications.- Chapter 5 - Once Upon a Time... The Gypsy Boy Turned 15 while Still in the First Grade.- Chapter 6 - Mathematical Ideas in Chundara Culture: Unfolding Nepalese Teaching and Learning System.- Chapter 7: Meaningful Mathematics Through the Use of Cultural Artifacts.- Part III - Purpose of Ethnomathematics in Mathematics/Mathematics Education: Cross-Cultural Situations.- Chapter 8 - Ethnomathematics and Culturally Relevant Mathematics Education in the Philippines.- Chapter 9 - The Role of Culture and Ecology in Visuospatial Reasoning: The Power of Ethnomathematics.- Chapter 10 - Cultural and Mathematical Symmetry in Maori Meeting Houses (Wharenui).- Chapter 11 - An Ethnomodel of a Penobscot Lodge.- Part IV: Philosophical Features of Ethnomathematics: A Theoretical Basis.- Chapter 12 - Ethnomathematics and its Pedagogical Action in Mathematics Education.- Chapter 13 - The Evolution of Ethnomathematics: Two Theoretical Views and Two Approaches to Education.- Chapter 14 - The Critical-Reflective Dimension of Ethnomodelling.- Conclusions.- Chapter 15 - Some Conclusions about Ethnomathematics: Looking Ahead.