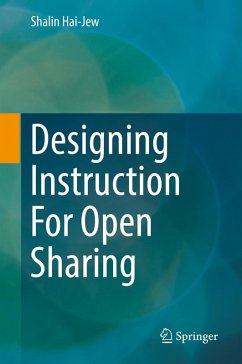 Andere Kunden interessierten sich
auch
für


The main concept of this work is that design learning for open sharing, requires different considerations than when designing for closed and proprietary contexts. Open sharing of learning contents requires a different sense of laws (intellectual property, learner privacy, pedagogical strategies, technologies, media, and others). It requires different considerations of learner diversity and inclusion. It requires geographical, cultural, and linguistic considerations that are not as present in more localized designs. The open sharing aspect also has effects on learner performance tracking (assessments) and learner feedback.

This textbook targets students, both undergraduate and graduate in computer science, education and other related fields. Also, professionals in this field managing online systems would find this book helpful.


Produktdetails
Artikelnr. des Verlages: 978-3-030-02712-4
1st ed. 2019
Erscheinungstermin: Februar 2019
Englisch
Abmessung: 241mm x 160mm x 34mm
Gewicht: 964g
ISBN-13: 9783030027124
ISBN-10: 3030027120
Artikelnr.: 53879740
1 Understanding the Open Sharing Learning Environment Online and Local Starts.- 2 Profiling Target and Potential Learners Today and into the Future.- 3 Thinking about the Learning Design: Theories, Models, Frameworks, and Heuristics.- 4 "Street Legal" Open-Shared Learning.- 5 Core Technology Considerations: Equipment, Authoring Tools, Digital Editing Tools, and Hosting Platforms.- 6 Establishing and Applying Contemporaneous E-Learning Standards: Evolving Stylebooks and Planning Work.- 7 Early Designs, Prototypes, and Learning Sequences for Exploration and Decision Making.- 8 Content Development (with Work Documentation).- 9 Alpha Testing, Beta Testing, and Customized Testing.- 10 Open Sharing: Launching, Outreach, Publicity, Usage Monitoring, and Post-Launch Care.- 11 Some Possible Futures of Openly Sharing Learning.