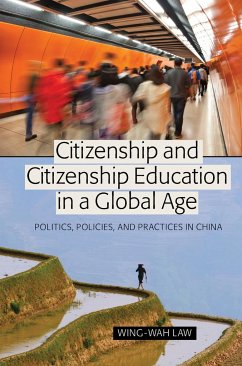 Produktdetails
Global Studies in Education .2
Artikelnr. des Verlages: 310801
Neuausg.
Erscheinungstermin: 6. Mai 2011
Englisch
Abmessung: 223mm x 149mm x 20mm
Gewicht: 400g
ISBN-13: 9781433108013
ISBN-10: 1433108011
Artikelnr.: 33498520
Contents: Kevin B. Wright/Lynne M. Webb: Preface - Erin M. Bryant/Jennifer Marmo/Artemio Ramirez, Jr.: A Functional Approach to Social Networking Sites - Jeffrey T. Child/Sandra Petronio: Unpacking the Paradoxes of Privacy in CMC Relationships: The Challenges of Blogging and Relational Communication on the Internet - Catalina L. Toma/Jeffrey T. Hancock: A New Twist on Love's Labor: Self-Presentation in Online Dating Profiles - Deborah Ballard-Reisch/Bobby Rozzell/Lou Heldman/David Kamerer: Microchannels and CMC: Short Paths to Developing, Maintaining, and Dissolving Relationships - W. Scott Sanders/Patricia Amason: Communication Competence and Apprehension during CMC in Online and Face-to-face Relationships - Stephanie Tom Tong/Joseph B. Walther: Relational Maintenance and CMC - Andrew C. High/Denise H. Solomon: Locating Computer-Mediated Social Support Within Online Communication Environments - Kevin B. Wright/Ahlam Muhtaseb: Personal Relationships and Computer-Mediated Support Groups - Jinsuk Kim/Kathryn Dindia: Online Self-Disclosure: A Review of Research - Jeanine Warisse Turner/N. Lamar Reinsch, Jr.: Multicommunicating and Episodic Presence: Developing New Constructs for Studying New Phenomena - Paige P. Edley/Renée Houston: The More Things Change, the More They Stay the Same: The Role of ICTs in Work and Family Connections - Amy Janan Johnson/Jennifer A. H. Becker: CMC and the Conceptualization of "Friendship": How Friendships Have Changed with the Advent of New Methods of Interpersonal Communication - Katheryn C. Maguire/Stacey L. Connaughton: A Cross-Contextual Examination of Technologically Mediated Communication and Social Presence in Long-Distance Relationships - Theodore A. Avtgis/E. Phillips Polack/Sydney M. Staggers/Susan M. Wieczorek: Healthcare Provider-Recipient Interactions: Is "Online" Interaction the Next Best Thing to Being There? - Gustavo S. Mesch/Michal Frankel: Family Imbalance and Adjustment to Information and Communication Technologies - Mark L. Hans/Brittney D. Selvidge/Katie A. Tinker/Lynne M. Webb: Online Performances of Gender: Blogs, Gender-Bending, and Cybersex as Relational Exemplars - Norah E. Dunbar/Matthew Jensen: Digital Deception in Personal Relationships - Makenzie Phillips/Brian H. Spitzberg: Speculating about Spying on MySpace and Beyond: Social Network Surveillance and Obsessive Relational Intrusion - Andrew R. Schrock/Danah Boyd: Problematic Youth Interactions Online: Solicitation, Harassment, and Cyberbullying.
"This is a work of breathtaking scholarship on China and its relationship to citizenship and citizenship education. Wing-Wah Law has combined meticulous historical analysis with innovative ideas about multilevel-multidimensional citizenship. His model synthesizing the continued importance of the nation-state, the new role of cities, and the significance of staging international events take the analysis far beyond that of China. A superb addition to the field of citizenship education in the complex politics of a globalized world." (Professor Lynn Davies, Centre for International Education and Research, School of Education, University of Birmingham, United Kingdom)
"This is a must-read book for anyone interested in the latest developments of citizenship and citizenship education in China and how the development of citizenship reflects social change. The book is both informative and insightful, and is a significant contribution to the literature of globalization, citizenship, and citizenship education. Based on over a decade of scholarly work, the book carefully tracks why and how the state plays a strong role in shaping citizenship education to meet the current and future societal requirements and prudently analyzes particular incidents, such as the 2008 Beijing Olympic Games, to show how the state uses globalization opportunities to shape a civilized citizenry." (Professor Wing-On Lee, President of the World Council of Comparative Education Societies; and Dean of Research, National Institute of Education, Singapore)
"What amazes me most about this book is its unique and comprehensive combination of a meticulous analysis of historical development of citizenship and citizenship education in the Chinese context, convincing findings generated from solid empirical evidence, the thoughtful and useful theoretical framework built upon the author's reflections on and scholarship in the field over decades, and enlightening conclusions illuminating new ways for the studies of citizenship and citizenship education in the future." (Jun Li, Asia Pacific Journal of Education 33.1, 2014)