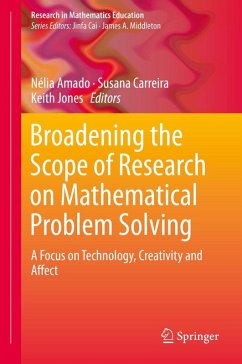 Broadening the Scope of Research on Mathematical Problem Solving will prove to be a valuable resource for researchers and teachers interested in mathematical problem solving, as well as researchers and teachers interested in technology, creativity, and affect.


Produktdetails
Research in Mathematics Education
Artikelnr. des Verlages: 978-3-319-99860-2
1st ed. 2018
Erscheinungstermin: 13. Dezember 2018
Englisch
Abmessung: 241mm x 160mm x 37mm
Gewicht: 1022g
ISBN-13: 9783319998602
ISBN-10: 3319998609
Artikelnr.: 53274264
The use of digital tools in web-based mathematical problem solving competitions: Different levels of sophistication in solving-and-expressing.- Solving probabilistic problems with technologies in middle and high school: the French case.- Prospective high school teachers' use of a dynamic geometry system to understand mathematical concepts and engage in problem solving activities.- The interactive whiteboard and the development of dialogic interaction in the context of problem solving.- Designing learning scenarios with robots for the learning of mathematics.- Developing geometrical exploration skills through dynamic geometry.- Reacting Chapter.- Highlighting creativity in children's solutions to mathematical problem solving beyond the school.- Creative mathematical thinking while solving a multiple solution task with infinitely many solutions.- Problem solving, creativity and visualization: The power of seeing.- Creativity and problem solving with early childhood future teachers.- Stimulating mathematical creativity through constraints in problem solving.- Mathematical creativity: Views from the field.- Mathematical research projects: Creative processes, actions and mediations.- Creativity and problem-solving: Perspectives for mathematics education.- Reacting chapter.- Students' attitudes in mathematical problem solving competitions.- Roles of aesthetics and affect in mathematical problem solving.- On choice, collaboration and closeness in problem solving: aesthetic experiences of pre-service teachers.- Facebook and WebQuests as tools for engagement with mathematics: The emotions experienced in the Math@XXI gymkhana.- Engagement and perseverance in mathematical problem solving.- Positioning and emotions in learning Algebra: the case of high and middle achieving students.- Reacting chapter.- Problem solving in a context of middle-school students doing computer programming tasks; connections to mathematics, affect and creativity.- Towards a more comprehensive approach to research on mathematical problem solving.


"This collection is a valuable resource for researchers and non-researchers alike - researchers will find insights on which to build further inquiry and just about all mathematicians and mathematics educators (regardless of research area) will find many problem-solving gems that will tantalize students and professionals alike." (Steve Benson, MAA Reviews, September 6, 2020)