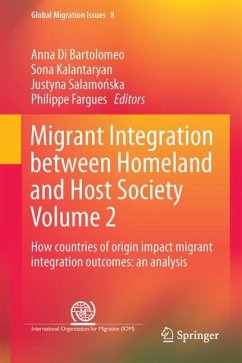 Andere Kunden interessierten sich
auch
für


This title is the second of two complementary volumes, each of which is designed to stand alone and provide a different approach to the topic. Here, renowned contributors present evidence from the studies of 55 origin countries on five continents and 28 countries of destination in Europe where both quantitative and qualitative research was conducted.

In addition, the chapters detail results of a unique worldwide survey of 900 organisations working on migrant integration and diaspora engagement. The results draw on an innovative methodology and new approaches to the analysis of large-scale survey data.

This examination into the tensions between integration policies and diaspora engagement policies will appeal to academics, policymakers, integration practitioners, civil society organisations, as well as students. Overall, the chapters provide empirical evidence that builds upon a theoretical framework developed in a complementary volume: Migrant integration between Homeland and Host society. Vol. 1. Where does the country of origin fit? by A. Unterreiner, A. Weinar. and P. Fargues.


Produktdetails
Global Migration Issues 8
Verlag: Springer / Springer, Berlin
Artikelnr. des Verlages: 978-3-319-56368-8
1st ed. 2017
Erscheinungstermin: 18. Juli 2017
Englisch
Abmessung: 241mm x 160mm x 19mm
Gewicht: 500g
ISBN-13: 9783319563688
ISBN-10: 3319563688
Artikelnr.: 47730349
Foreword by Philippe Fargues .- 1. Introduction by Anna Di Bartolomeo, Sona Kalantaryan, Justyna Salamonska .- 2. Introducing emigration and diaspora policies in integration studies by Anna Di Bartolomeo, Sona Kalantaryan, Justyna Salamonska, Cameron Thibos.- 3. Counting the uncountable - measuring migrant integration between origin and destination by Anna Di Bartolomeo, Sona Kalantaryan.- 4. Civil society organisations and the diaspora-integration nexus by Justyna Salamonska and Anne Unterreiner.- 5. Countries of origin as organisers of emigration: Moroccans and Turks in Belgium by Sonia Gsir, Jérémy Mandin, Elsa Mescoli.- 6. Asylum seekers in diaspora: Turks and Iranians in Sweden by Francesco Pasetti.- 7. Following the global competition for talent: what risks to integration in the UK?by Anne Unterreiner.- 8. Turkish and Russian pathways to integration in Germany by Agnieszka Weinar, Jan Scheider.- 9 Ukrainian and Russian immigrants in Poland: Whither Integration?by Magdalena