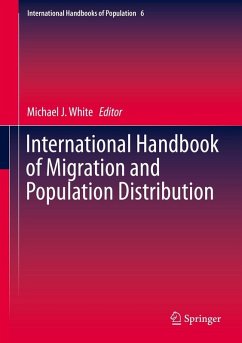 Andere Kunden interessierten sich
auch
für
---
Dieser Download kann aus rechtlichen Gründen nur mit Rechnungsadresse in A, B, BG, CY, CZ, D, DK, EW, E, FIN, F, GB, GR, HR, H, IRL, I, LT, L, LR, M, NL, PL, P, R, S, SLO, SK ausgeliefert werden.
Produktdetails
Verlag: Springer-Verlag GmbH
Erscheinungstermin: 11.12.2015
Englisch
ISBN-13: 9789401772822
Artikelnr.: 44484977
Introduction: Contemporary Contributions to Understanding Migration and Population Distribution: Michael J. White.- Part I: Perspectives on Theory for Internal and International Migration: 1:Perspectives on Migration Theory - Geography: Richard Wright and Mark Ellis.- 2: Perspectives on Migration Theory- Economics: Michael J. Greenwood.- 3: Perspectives on Migration Theory-Anthropology: Caroline B. Brettell.- 4: Perspectives on Migration Theory -- Sociology & Political Science: Michael J. White and Colin Johnson .- 5: Conceptualizing Migration: From Internal/International to Kinds of Membership: Susan K. Brown and Frank D. Bean .- Part II: Data and Methods for Migration Study: 6: Concepts, Definitions and Data Collection Approaches: Richard E. Bilsborrow.- 7: Data Prospects: IPUMS-International: Matthew Sobek.- 8: Micro Methods: Longitudinal Surveys and Analyses: Cris Beauchemin and Bruno Schoumaker.- 9: Migration Analysis using Demographic Surveys and Surveillance Systems: Philippe Bocquier.- 10: Migration flows: measurement, analysis and modeling: Frans Willekens.- Part III: Regional Perspectives: 11: African Migration and Population Distribution: Recent Trends, Methodological Challenges and Policy Issues: Blessing Uchenna Mberu.- 12: Migration in Asia: Elin Charles-Edwards, Salut Muhidin, Martin Bell, Yu Zhu.- 13: Migration in China: Zai Liang and Qian Song.- 14: Changing Patterns of Migration in India: A Perspective on Urban Exclusion: Amitabh Kundu and Lopamudra Ray Saraswati.- 15: Migration in Australia and New Zealand : Graeme Hugo, Janet Wall and Margaret Young.- 16: Migration in Europe: James Raymer.- 17: Migration in the Americas: Adriana Lopez-Ramirez and Gabriela Sánchez-Soto.- 18: Moving For Opportunities? Changing Patterns of Migration in North America: Amy Spring, Stewart E. Tolnay, and Kyle Crowder.- Part IV: Emerging Policy Topics in Population Redistribution: 19: Migration, Urbanization, and Health: Elizabeth Nauman, Mark VanLandingham, and Philip Anglewicz.- 20: Migration and the Environment: Lori M. Hunter and Raphael Nawrotzki.- 21: Population Distribution and Poverty: Rachel E. Dwyer and Daniel Sanchez.- 22: Migration, Assimilation and Social Welfare: Jennifer E. Glick and Julie Park.- 23: Economic Impacts of Migrant Remittances: J. Edward Taylor and Michael Castelhano.- 24: International migration, gender and family: a miroir from Latin America: Silvia E. Giorguli and Adela Angoa.- 25: Urban Migration of Adolescent Girls: Quantitative Results from Developing Countries: Mark R. Montgomery, Deborah Balk, Zhen Liu, Siddharth Agarwal, Eleri Jones, and Susana Adamo.- 26: Forced Migration: Holly E. Reed, Bernadette Ludwig, and Laura Braslow.- Index.
"This 27-chapter edited volume offers a comprehensive overview of the literature on migration and population distribution. ... Each of the chapters in the volume has its own bibliography ... . The volume succeeds admirably in its goal of providing a comprehensive state-of-the-knowledge." (John Casterline, Population and Development Review, Vol. 42 (4), December, 2016)