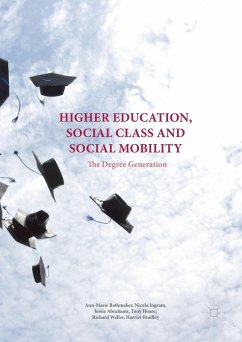 Produktdetails
Artikelnr. des Verlages: 978-1-137-53480-4
1st ed.
Seitenzahl: 212
Erscheinungstermin: 11. August 2016
Englisch
Abmessung: 216mm x 151mm x 20mm
Gewicht: 406g
ISBN-13: 9781137534804
ISBN-10: 113753480X
Artikelnr.: 44374041
Chapter 1. Introduction: The Degree Generation. Higher Education and Social Class.- Chapter 2. Researching Class and Higher Education.- Chapter 3. Two Universities: One City.- Chapter 4. Getting In.- Chapter 5. Getting On.- Chapter 6. Getting Out.- Chapter 7. Narratives of Class and 'Race'.- Chapter 8. Conclusion.
"Higher Education, Social Class and Social Mobility. The Degree Generation presents a fascinating account of an original and ambitious research project. While drawing on relevant theory, it is written in an accessible manner and engages closely with the policy context. As such, it deserves to be read widely - not only by those conducting research in this area but also by policymakers and all of us who work in higher education who have an interest in promoting social equality." (Rachel Brooks, British Journal of Educational Studies, December 16, 2018) "This book is a welcome and very timely contribution to our understanding of the complex relationship between social mobility and higher education in England. ... The Bourdieusian conceptual schema is a key theoretical underpinning of the book, with the research drawing extensively upon the concepts of habitus, capital and field." (Andrew Morrison, International Studies in Sociology of Education, Vol. 26 (03), October, 2017) "Bathmaker et al. present a fascinating piece of scholarship. ... this is an elegant read and a book that is thought provoking in all the right ways." (Garth Stahl, International Studies in Sociology of Education, Vol. 26 (03), October, 2017)