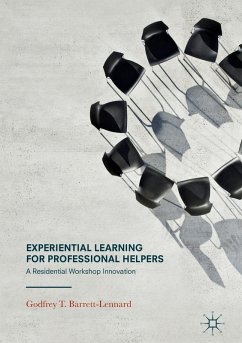 Produktdetails
Artikelnr. des Verlages: .978-3-319-47918-7, 978-3-319-47918-7
1st ed. 2017
Seitenzahl: 368
Erscheinungstermin: 18. April 2017
Englisch
Abmessung: 216mm x 151mm x 27mm
ISBN-13: 9783319479187
ISBN-10: 3319479180
Artikelnr.: 45752453
Chapter 1. The 'Armidale' Residential Workshops: Concept and Beginnings.- PART I. 'As it Happened': The Process Documented.- Chapter 2. Finding our Difficult Way: Group X's Transcribed Beginning.- Chapter 3. Mid-Journey Advance and the Late Stages of Group X.- Chapter 4. Tracing the More Relaxed Journey of Group Y, and Glimpses of Further Groups.- Chapter 5. Session-by-Session Participant Ratings of Process and Effects.- PART II. Outcome Reports and Estimations.- Chapter 6. After-the-Workshop Reflections by Letter-Report.- Chapter 7. Workshop Outcomes from Formal Six-Month Follow-Up Data.- Chapter 8. Ten Years Later: Long-Term Follow-Up via Study of Life Events.- Chapter 9. Armidale Remembered and Participant After-Journeys: Interview Perspectives.- PART III. Theory and Wider Application. Chapter 10. A Theoretical Understanding of Intensive Experiential Learning Groups.- Chapter 11. Armidale and Beyond: A Path of Events and Thought.