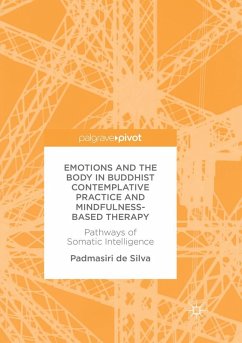 Produktdetails
Artikelnr. des Verlages: 978-3-319-85781-7
Softcover reprint of the original 1st ed. 2017
Seitenzahl: 160
Erscheinungstermin: 2. August 2018
Englisch
Abmessung: 210mm x 148mm x 8mm
Gewicht: 217g
ISBN-13: 9783319857817
ISBN-10: 3319857819
Artikelnr.: 53575779
Preface.- 1.Somatic Psychology in Historical Perspective.- 2. The Body and the Emotions: Anger, Disgust and Contempt.- 3. Embodied Emotions and Body-Mind Reactivity.- 4. Pain Management and Somatic Intelligence.- 5. Pain and Trauma Management.- 6. Emotion Studies: Darwin, James and Freud.- 7. Escaping Bondage to the Somatic Passions.- 8. The Nature of Human Volition and Intentions.- 9. A Journey of Self-awakening.- 10. Free Will.- 11. Moral Pain.
"The book focuses on understanding meditation and mindfulness as a form of somatic intelligence ... . Graduate and professional students in clinical fields will find it helpful in synthesizing traditional mindfulness philosophy with contemporary empirical research to inform a holistic care approach. As well, medical and mental health practitioners will find it a helpful text for offering new insight and strategies for integrating mindfulness practices into primary, mental health, and specialized care." (Kimberlee Bethany Bonura, PsycCRITIQUES, Vol. 62 (48), December, 2017)