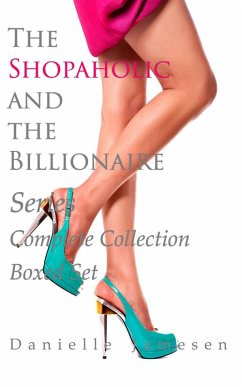 Geräte: eReader

mit Kopierschutz

Größe: 0.14MB

FamilySharing(5)
Mia, newly divorced, finds herself fraying at the threads. Her life that was once so picture perfect has now come to pieces in front of her. Her husband has left her for another woman. To make matters worse, Mia's boutique is failing due to her non-stop spending.
In the midst of all of this, Mia's secret addiction threatens to cast a dark shadow over anything she wants to do. Feeling stuck and hopeless, she only digs herself in a deeper hole.
It isn't until she receives an invite to her college reunion that Mia starts to think of her ex-boyfriend, Charles. Now a billionaire and a well-respected doctor, Mia finds herself itching to see him again and see if they can reconnect.
As old insecurities rise up, she must decide if she is going to jump off the cliff and see her billionaire ex-lover or run away and stay on the path she is currently traveling.
Book 2 Description
Mia faces her fears and attends her college reunion, hoping to see her ex-lover turned billionaire doctor, Charles.
As the two of them fall into each other's arms, Mia realizes that they might be too different for the two of them to truly make things work in this day and age. Fear sends Mia flying away, refusing to walk down that path.
But Charles isn't so eager to give Mia up. Using his never-ending means, he finds her and attempts to rekindle what they had. But Charles has changed since college. His billions have made him less inclined to reveal what makes him click and he is scared to let Mia in.
Mia finds herself unsure if she should go after Charles and win his heart or let him go and save herself the possible heartache. As Charles sends a huge favor her way, Mia cannot help but wonder if he feels the same way about her and is simply hiding it.
Torn between fear and going for it, Mia must navigate her new world.
Book 3 Description
Mia finds herself forced to make hard choices. As she repeatedly finds herself falling into Charles's arms, Mia knows that she must get own life on track.
With Diamond's party looming for her boutique, Mia tries to make things with Charles work. But the billionaire is hesitant to give anyone close to him anything but money, thinking that is all they want from him. As Mia struggles to show Charles that she has true feelings for him, she ends up sending him fleeing.
Now Mia is faced with the fact that the only way she can be happy is to improve her own life. As she makes the difficult steps to improve herself and tackle her shopping addiction head on, she reconnects with things she had previously thought lost to her.
As Mia makes peace with her past and looks toward her future, a little good-luck might pave the way to future happiness after all.
---
Dieser Download kann aus rechtlichen Gründen nur mit Rechnungsadresse in A, B, CY, CZ, D, DK, EW, E, FIN, F, GR, H, IRL, I, LT, L, LR, M, NL, PL, P, R, S, SLO, SK ausgeliefert werden.